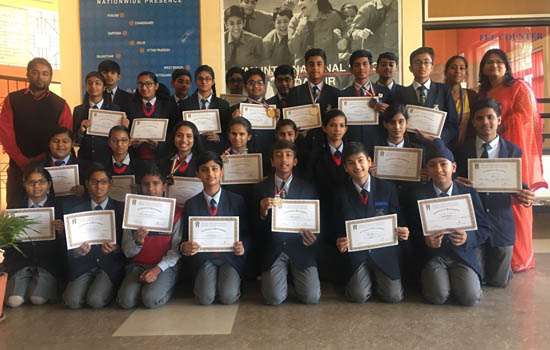 Udaipur: "Change will not come if you we wait for some other person or some other time. We are the ones we've been waiting for; we are the change that we seek."
The time has come when the youth of today should have the vision of true future and acceptance with suggestions & great ideas to implement for present.
Keeping the same maxim and learn more about other countries, Udaipur Ryanites witnessed & participated in IIMUN chapter Udaipur. Ryanites brought laurels in various committees. For UNSC the best delegates prize was bagged away by MS Sandali Rathore and Master Uday Iye, High Commendation was awarded to Master Hardik Bhatnagar & Master Kuldeep Choudhary.
Verbal Mention was grabbed by Master Sumit Walwani, Master Sanidhya Somani, Master Sanskar Agarwal & Ms Sakshi Soni. For commission on the status of Women High Commendation by Ms Aashvi Shrimali who had presented country Pakistan.
Special mention was grabbed by Master Sanjay Prajapat who presented country Gautemala. For Lok Sabha Verbal mention was bagged by Master Priyanshu Menaria.
Ryanites Participated in Udaipur Chapter and had attended the conference very enthusiastically& were appreciated by al the present organizing committee. Principal, Mrs Poonam Rathore congratulated all the participants and winners.
यह खबर निम्न श्रेणियों पर भी है:
Udaipur News