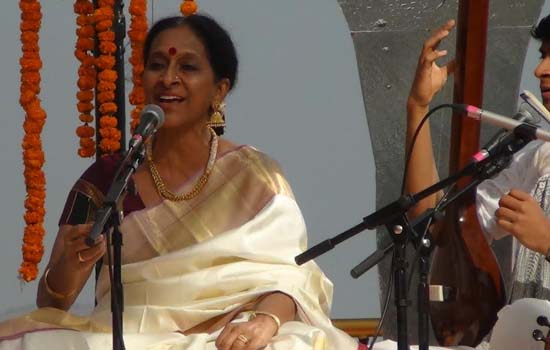 Udaipur: (Vilas Janve) The Sunday morning music concert at Jag Mandir left indelible impact on Music lovers. Bombay Jayshree Ramnath rendered Sankeertanam in Carnatic style with her mesmerizing voice.
This soulful music concert started with a composition 'Anand Natan Prakasham' in Raag Kedaram in Mishra Chapu Taal. The second presentation 'Juta Murare' was in Raag 'Aarbhi'in Rupak taal. This was followed by composition of great guru Tyagraja 'Nidhi Chal Sukhma'.
The cold breeze of Lake Pichola contributed a lot to make divine concert more interesting.
All her young accompanists made her performance more melodious.
Shreekanth on Voilin ,Sumesh on Mridangam,Krishan on Ghatam and Amrit on Tanpura as well as vocal support show cased their talent. Her concluding performance was Tillana in Aditaal composed by her Guru Sri Lalgudi J. Jayraman in Raag Pahadi. Her involvement in teaching music to special children showed tremendous patience on stage.
Her deep and blissful voice with appropriate expressions gave inner happiness to every listener.
The second half was presentation of Songs from the Middle East Churches from Lebanon. Fadia Tomb el Hage (Contralto) with Maria Makhou l(Qanoun). Her songs had a good blending of Eastern and Western
vocal techniques. Her repertoire extended from classical Arab music, European music from the Middle Ages to contemporary music.
On Saturday Jag Mandir hosted divine morning concerts of Vedic Chanting by Panini Kanya Mahavidyalaya, Varanasi followed by Hidustani Classical vocal of Pt. Madhup Mudgal, New Delhi and Adana-Vardan Hovanissian (Duduk) & Emre Gultekin(Vocal-Saz),a deep hymn celebrating the history of two vibrant cultures of Armenia and Turkey.
Jag Mandir island palace, a palace on the island in lake Pichola is a perfect venue for the musical concerts and people look forward to get entry to Jag Mandir not only for attending concerts but also to
enjoy their short stay at the most pictures palace.
They capture these memorable moments in their cameras.
This two days very special event was supported by Eternal Mewar &HRH group of Hotels, Fortune Stones and Rajasthan Patrika and sponsored by Hindustan Zinc and Wonder Cement.
Conceptualised and produced by 'Seher', Udaipur World Music Festival is gaining popularity in the Music lovers of Udaipur.
It will certainly go a long way but the organizers should also keep in view the other ongoing programmes of the town so that the music lovers can enjoy maximum concerts.
यह खबर निम्न श्रेणियों पर भी है:
Udaipur News