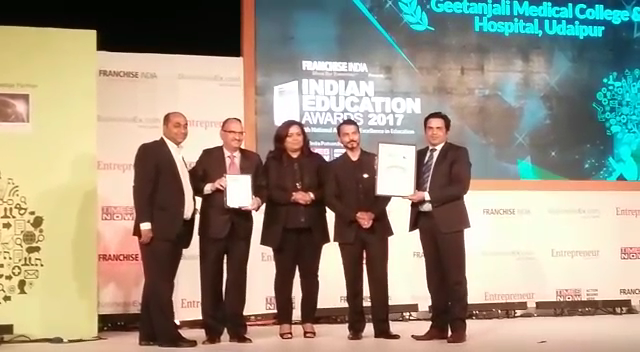 Udaipur: Wednesday 8th February, Franchisee India had organized a two day Indian Education Awards 2017 ceremony at New Delhi in which Geetanjali Medical College & Hospital, Udaipur was awarded the "Best Medical Institute of the Year".
The award was honored to Dean Geetanjali Medical College Dr F.S. Mehta & Sr. General Manager Quality Control Sukanta Das. The 7th Indian Education Awards is a distinguished gesture to honor those phenomenal people whose heart wrenching stories are etched inside every individuals mind across the regions, education segments or people they touched upon. The ceremony had seen a participation of a larger number of educational institutes and universities from all over India.
Dr. F.S. Mehta said that the award ceremony had more than 200 categories in which GMCH was awarded Best Medical Institute of the Year. This award aims to recognize the outstanding Institute in Medical sciences. The main factors were bold and creative strategies and initiatives that have helped the Medical school to improve and flourish.
यह खबर निम्न श्रेणियों पर भी है:
Udaipur News