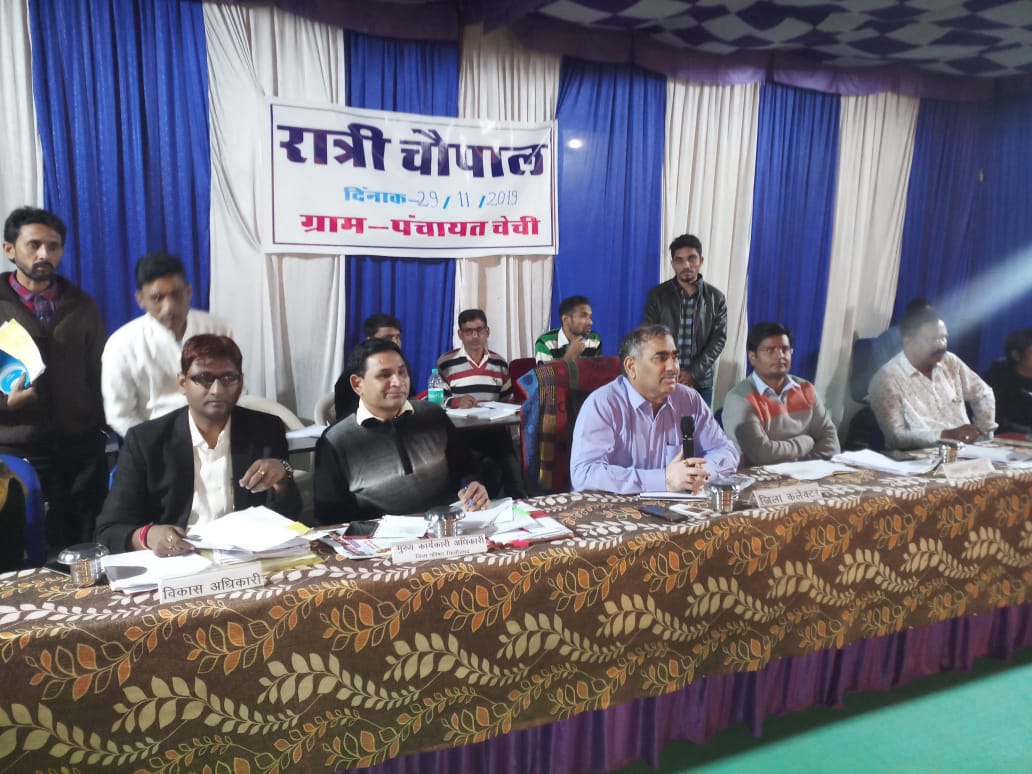 Chittorgarh, Ratri Chaupal of District Collector concluded in Chechi of Begun on friday night. In the public hearing, non-payment of inheritance amount, payment of toilet amount, water problem in Kaizer locality, compensation case and two matters related to labor department, to get benefit in Shubh Shakti scheme, removal of encroachment and public hearing of many complaints related to removal of encroachment from pasture land were provided on the spot by District Collector by setting deadline and giving instructions to the concerned authorities.
District Collector Chetan Deora gave two land leases issued to the beneficiaries on the spot.
Madan Salvi Ojasvi from Labor Department explained Prime Minister Shram Yogi Maandhan Pension Scheme and provided various information of labor registration and benefits. Ojasvi said that construction workers should register themselves first and apply for benefits.He provided detailed information about the schemes. Department of Agriculture, Women and Child Development Department, Panchayati Raj Department, Medical Department, Electricity and Public Health Department etc. provided information about the schemes from their respective departments.On this occasion, a large number of women and men attended the chaupal and received information from several departments with full awareness.
The District Collector had a direct communication with the public and said that anyone can call him on his mobile anytime. He further said that if it does not happen then you can come directly to my office and meet.
Many grievances sorted out in Ratri Chaupal
In the Ratri Chaupal of the District Collector many problems were resolved and people were informed about many schemes. Giving information during the ratri chaupal, Chief Medical and Health Officer Indrajit Singh said that it is very important to get children vaccinated from time to time. He said that many types of diseases occur if not vaccinated on time. He told that vaccines are given to children up to the age of 15 years. Women must get registered in the hospital before the time of delivery. By this both the mother and the child are protected. He told that women must get maternity done in Government hospitals only. Everyone must take care that deliveries should not be done by midwives at homes. The ambulance service is free and Anganwadi Centres also help in getting relief on time. He said to keep hands clean to avoid swine flu in this winter season.
The official told from NREGA, RAMSA that workers must have family job card for Mahatma Gandhi NREGA work. People may get benefits like construction, maintenance, repair of wells in the village, ponds, anicuts, village wells, repairing the roads of the village and personal benefit plans including improvement of their fields, plantation etc from NAREGA.
The District Logistics Department officer provided information about Ujjwala scheme, distribution of food grains, wheat and benefits from ration cards etc. as well as giving benefits to eligible persons. Officer from Electricity Department provided information about NABARD loan and solar pump scheme etc to the people. PHED gave information about Janata Jal Yojana, installation of hand pumps and tap connections in houses, water life mission and explained that water should not be wasted.
Due to the chaupal, many problems were resolved on the spot and the rural people became aware after getting information about various work schemes run by Government. ADM Mukesh Kumar Kalal along with other officials were also present in this Chaupal.
---
© CopyRight Pressnote.in | A Avid Web Solutions Venture.