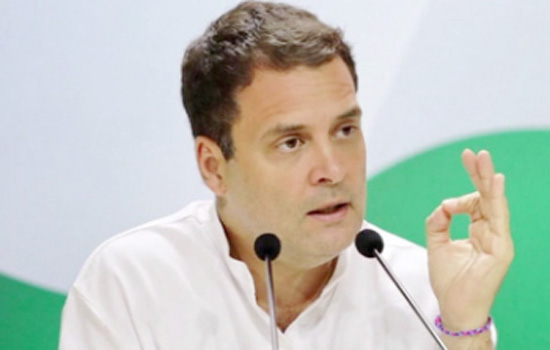 New Delhi: Congress chief Rahul Gandhi, ex-prime minister Manmohan Singh and UPA chairperson Sonia Gandhi on Tuesday released the party's manifesto for LokSabha polls.

Chairman manifesto panel P Chidambaram said the manifesto's theme is to marry creation of wealth with the guarantee of welfare

Former PM Manmohan Singh says the manifesto spells out Congress vision of a rapidly expanding economy and what we plan to do to address poverty, ignorance and disease, we should target eradicating poverty by 2030

Manmohan Singh says 10 years of UPA rule were marked by impressive growth and 140 crore people were brought out of poverty

Congress president Rahul Gandhi, former PM MM Singh, former party president Sonia Gandhi release the manifesto titled "Hum Nibhayenge" (We will keep our promise)

Congress president Rahul Gandhi declares a stand-alone budget for farmers on the lines of previous railways budget after releasing the patty manifesto

Loan default by farmers won't be considered a criminal offence if we are elected to power, it will be considered a civil offence, says Rahul

Congress will give 6 per cent of the beget to education, says Congress chiefGandhi also declares Nyay Scheme giving a poll slogan "Gareebipevaar, bahattarhazaar"

To address job crisis Gandhi says the Congress will fill 22 lakh vacant government jobs by March 2020, adding "We will absorb 10 lakh youth in Jind at gram Sabha level"

On Nyay, Gandhi says the scheme will jump start an economy jammed by demonetisation and GST by putting money in the hands of 20 per cent poorest of Indian familiesGandhi says new entrepreneurs will be given three year tax and approval breaks

"You can set up business and won't need any approvals for three years," says Gandhi On the narrative war, the Congress said the PM can try as much as he wants to shift the narrative away but he won't be able to do this.

"Narrative has been set by Nyay Scheme and by farm crisis and lack of jobs," he says

On choice of contesting from Wayanad, Gandhi said the Southern India is feeling hostile to PM because he is not taking them along. "I'm going to south because I want to give them a sense of bonding", says Gandhi

Attacking the PM for playing the "Hindu card" in respect of Wayanad, Gandhi says, "Everyone is a Hindu. The PM is afraid and scared and doesn't face the press. We will defeat him in the upcoming polls

Gandhi says, "I am absolutely certain the issue in this election is corruption, Nyay Scheme, unemployment and farm crisis", adding on whether post-Pulwama events are setting the narrative for elections

Gandhi wraps up manifesto release event saying its focus is five fold — addressing farm distress, joblessness, women's security, new business and small enterprises, and health and education concerns.
---
© CopyRight Pressnote.in | A Avid Web Solutions Venture.