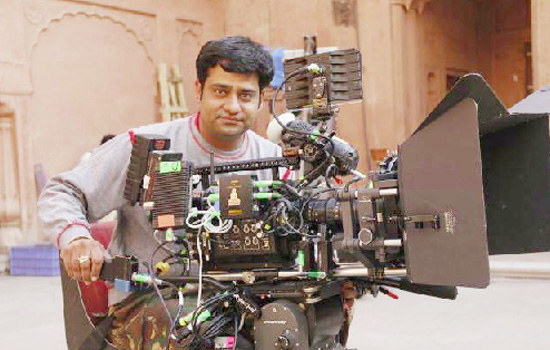 No doubt, Udaipur has a distinct identity all the world over due its mesmerising scenic beauty. The city has been ranked as third in fifteen most beautiful city in the world, according to a recent survey. A huge number of devotees from all over the country come throughout the year to ShrinathMandir at Nathdwara that is just 45 km. away. They also take back sweet memories of Lake City.



Over the past 40 years, more than 500 Bollywood, Hollywood, Rajasthani and South Indian films have been shot here. Besides this, in several innumerable TV serials, advertisements, music albums etc. Udaipur, the charming city, has been shown.



Inspite of all this, Udaipur has not yet been given the status of Film City. So Akhil Rajasthan Film Committee is trying hard to get Udaipur declared as Film City at the earliest on the basis of the advantages for Udaipur. Mukesh urge udaipurites to extend your full cooperation and support to this campaign.



Construction of Film City in Udaipur ideally requires at least 500 to 800 acres of land. Part of it would be for setting up State Government Industries. With the allocation of around Rs. 100 crore the govt. can easily make Film City at its own level so that the State Government will be able to get revenue of around Rs. 500 crore annually through shooting of films and Serials.



The State Government, like the Resurgent Rajasthan, can make land available to encourage the Filmmakers and Directors to promote Film Culture in which the Film Maker could invest money for the Establishment of Film City.



After the establishment of Film City in Udaipur, the producers will be able to set up the sets for shooting at low cost according to the project and will be able to shoot films by creating sets of airport, railway station, village,township, 'mohalla', bungalow, cafe, bazaar, college, school, hospital, workshop, palaces, lakes etc. on the remaining land. Equipment for the required cameras, lights, gymjip etc., for current shooting, will be easily available at low cost in Udaipur. Recording, editing studios and other technical facilities will also be established.



With the establishment of Film City in Udaipur with beautiful and lush lakes, beautiful fountains and green gardens, tourists will have great fun.



In Film City, an Entertainment Zone would have parks, adventure parks, children park, thematic park, animal and bird enclosures, flower nurseries, skating, rain dance, swings, rides etc. These places will be for shooting as well as tourists with ticketed entry.



Film City will also have other exciting programmes for children and adults along with real stunts which will be presented every day by trained stunt artists in the theater.



Space would also be needed for a Film and Entertainment Academy, editing booths or set ups, open large studios for indoor shoot, studios for sound recording, animation, make up, ….



A man with vision, MukeshMadhwani, Rajasthan Line Producer, is the eldest of the three Madhwani brothers. He sets for himself new goals even before he achieves the earliers ones.



A bright student all through, Mukesh Completed his school education at Adinath Public School, Udaipur and jawahar Jain Secondary school, Udaipur with Commerce as he was interested in the family business. His one-year course in Food and Beverages in from the Food Craft Institute Udaipur. After this, he joined his father's business. In 2000, the family started Ashoka Catering that served food to different big film banners at their shooting sites.



Mukesh began thinking about film production in Udaipur. He was able to manage the permission for shooting of the film the fall with the help of his friend Anil Mehta. He becomes a local assistant manager in the film production sector. The idea of making Udaipur a film city struck him in 2010.



For this he formed a strong team and the local authorities agreed to initiate the plan. The group shared the idea with film and TV stars who came for shooting to Udaipur and they also liked the idea. The positive response from stalwarts of tourism, Rajasthan's royalty and the government was very positive.



Mukesh says that there are several advantages of making Udaipur a film city. Its unmatched scenic beauty, historical buildings and distinct culture have already made it a favourite spot for film shooting.



No wonder, during the last four decades over 500 Bollywood, Hollywood, South Indian and Rajasthani films and numerous TV serials have been shot here. Some other plus points include road and rail connectivity. Mukesh has been honoured with several awards by different organizations from time to time that include one by the district administration for his relentless efforts to make Lake City a film city."One can never do enough for Udaipur", says Mukesh.



Mukesh tries to spend as much time with wife Mala, fourteen-year old son Manav and daughter Yamini.



Mukesh feels that catering and allied businesses provide great opportunities for the young to make their mark.



His modesty, girt and integrity have made Mukesh a popular figure in Lake City.



MukeshVadhwani: Greetings on behalf of M Square Productions and Events!!



We would like to introduce ourselves as a fast growing Production and Event management company based in Udaipur.



We hold a comprehensive experience in producing music video albums, short movies, documentaries etc. M Square also caters as a one stop solution provider for film shootings, which includes procuring permissions, arranging accommodation, logistics, transportation, food etc.



We are pleased to share that the earnest maneuver of proposing to establish a Film City in Udaipur is the brain child of CEO of the company Mr Mukesh Madhwani, he is also a proud member of Field Club Udaipur.



He visualizes tremendous opportunities in terms of employment and economic growth of the city.



As an ace event management house, we are proficient in managing corporate events, brand promotion campaigns, weddings and all kinds of large scale functions in Rajasthan.



Our dexterous team is creative enough to come up with intelligent customization as per clients' expectations and budget frames. We at M Square Production and Events hope to serve you soon and delight you with our ingenious solutions! Says Mukesh



Mukesh Madhwani is struggling for last 10 years for establishment of a film city in beautiful city of lakes udaipur he has been investing his time money and hard work for bringing and developing a Film City in Udaipur as by establishment of a film City, lots of employment opportunities for around 1 lakh people per day will be generated as well as around 500 crores per annum revenue will be there for the state as well.




---
© CopyRight Pressnote.in | A Avid Web Solutions Venture.