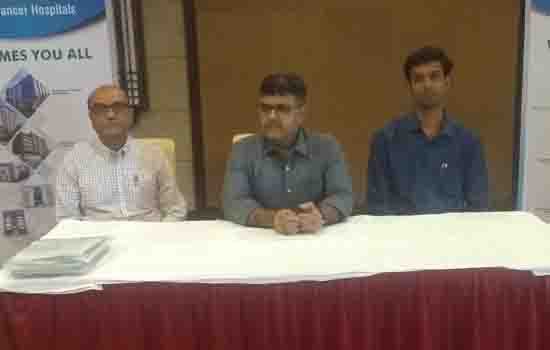 Udaipur: Liver and Gastric related issues to be diagnosed with experts care along with advanced technology is most important nowadays! Valuable and newly introduced diagnostic and surgical options, best utilization, Critical case studies and medical experiences were shared in CME, which was organized by Gujarat's largest Corporate Hospital Chain – Sterling Hospital. Western India's renowned team of experts' i.e Dr. SudhanshuPatwari, Dr. Nilay Mehta and Dr. Hitesh Chavda, were eminent speakers of the event.Dr. SudhanshuPatwari, Gastroenterologist, stated that, The best way to fight liver disease is to prevent it. Diet, Exercise, and moderate/no alcohol consumption is the best way. Many people believe that the liver can only be affected by excess alcohol consumption. However, there are many other ways that directly affect liver. The modern lifestyle can be challenging for those, who are more dependable on processed foods, unhygienic or junk foods and uncontrolled food habits etc. To keep your body healthy, It is important to eat a healthy diet complete with green leafy vegetables and fresh juices. Processed foods are more difficult to digest and do not have the nutritional profile to support to maintain a healthy body. Moreover, whole food can help in making liver's job easier.Obesity plays a pivotal role in creating Gastric and liver diseases. If anybody has digestive problems, excessive weight, irregularities in food and lifestyle, that can help to alleviate liver issues. It is always recommended that people limit their alcohol intake so that their liver can function correctly, he added.
Dr. Hitesh Chavda, Hepato-billiary and Liver Transplant surgeon said that surgery of Liver itself needs high-end instruments and one-stop medical solutions. Liver Cancer, Liver Transplant and other critical liver related surgeries available at Sterling Hospital, Ahmedabad with all new techniques and services dedicated OT, trained staff, high-end diagnostic facilities, paramedical team and of course renowned team of Liver and GI experts.More than 200 specialty experts of Udaipur region were presented in CME. They had active participation in the session as well as in Q&A session after the event. Many of the participants had shared their experiences and types of critical cases also.In introductory session, Business head kalpesh Patel informed that treatment for liver cirrhosis, liver failure, liver-related complex problems and liver Transplant facilities are available in sterling hospitals. So far approx 25 liver transplants are successfully carried out. Diagnostic facilities like ultrasonography, capsule endoscopy, key advanced endoscopy and Interventional endoscopy procedures like POEM, Esophageal banding, and Sclerotherapy for variceal bleeding, Esophageal stenting, EGD, ERCP, EMR, ARMS, STER are available at Sterling Hospital. About today's CME, we have received many positive reviews from Udaipur doctor fraternity.
---
© CopyRight Pressnote.in | A Avid Web Solutions Venture.