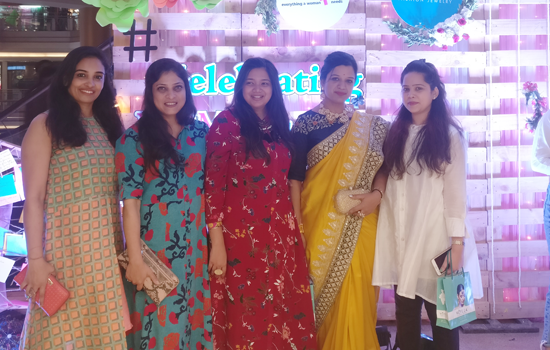 Udaipur: All the ladies of EWON powered by CHICS CONNECT came together for celebrating womanhood , an event by EWON (everything a woman needs ) and VOYLLA (fashion jewelry brand) on 29thSeptember 2018 at Celebration Mall, Second Floor, Voylla Store.Voylla is fashion jewelry brand with 250+ stores across the country.
EWON means everything a woman needs and is a membership program brought to you by CHICS CONNECT for bringing women best of the services for women at one click making their lives super easy and shopping super fun.
Meet and greet with ladies from all domains, activities for ladies and shopping followed by snacks. Founder and owner of various businesses assembled for this event. RoyaSoni, founder Gold n Blush, SangeetaDhar owner Innovating Hospitality, IshaniVerdia founder Flurn, KirtiChhajer owner Annaya boutique, Meghna Nahata owner Neev boutique, ShikhaPurohit founder Accentuate Design, SaumyaLuthra founder Paper Concepts, ManaliMethani fitness expert, KirtiIntodia owner Rootage restaurant, SonalAchha and Aruna Mehta owner Ombre Boutique, RashmiPrayani owner Dialogue Café, ParamArora blogger and owner Fdailydose, AakankshaLuthra fashion blogger, ShwetalKandhari Founder Shwetal'sNirogDham, AnjuGiri Director SIPPL, MeetaKhaturia founder Pinks and Peaches Studio, DivyaChhabra founder Simply Sweet, MuktaShrimali owner Fashion Closet , RaginiSuhalka owner Riddhom by Ragini etc. are the few amongst 200 talented ladies who made it super special with their presence.
HurratulMalekaTaj, founder EWON says that Main attractions of the event were :
- Launch of EWON membership CARD
- Jewelry gift to every woman who joined in by Voylla
- Activity to express – What is their biggest power as a woman
- New jewelry collection by Voylla
- Meet and greet over snacks
North and East Marketing Head for Voylla, Ms. VibhutiMunjal all the way from Delhi also graced the event with her presence. Bringing together women to share , connect and collaborate holds the main motive behind these activities by EWON.
---
© CopyRight Pressnote.in | A Avid Web Solutions Venture.