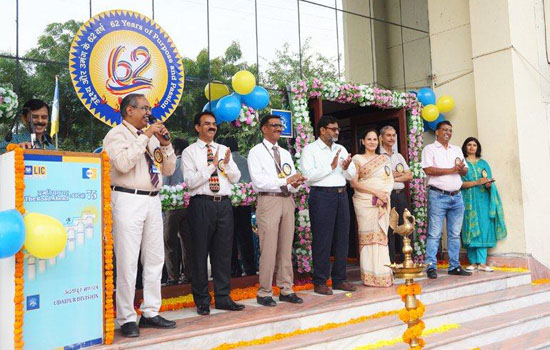 Udaipur: The Life Insurance Corporation of India (LIC) celebrated its 62'th Foundation Day' on Saturday amid much fanfare. Luckily Udaipur division is also completing its 25th birthday also
Senior Divisional Manager, Sanjay Bhargava dwelt on the achievements of the corporation on the occasion. Bhargava said the LIC, which symbolizes the faith and trust of millions of countrymen, was synonymous with life insurance as it is the market leader having 78% share of Indian insurance market in terms of the number of policies. With 29 crore individual policies, besides covering more than 9 crore people under group insurance and superannuation schemes and over 3 crore families under social security schemes, the LIC is the largest insurance company in the world in terms of the number of customers, Bhargava said. The corporation has also extended its services at several offshore destinations, including UK, Fiji, Mauritius, Bahrain, Nepal, Sri Lanka, Kenya and Singapore, he said, adding LIC posted a robust performance in terms of corporate governance benchmark. On corporate social responsibility (CSR) front, it has collaborated with several state governments providing social security schemes to BPL families for their financial inclusion,
On this auspicious occasion, a grand "Insurance Week" is being held from 1st September to 7th September. Udaipur Mandal is also celebrating the 25th year of its establishment in the form of Silver Jayanti Year. Under this, each employee and agent is determined to do their best. The week-long ceremony has begun with press meet in which officials told about the achievements of LIC as well as more about cancer policy.
---
© CopyRight Pressnote.in | A Avid Web Solutions Venture.