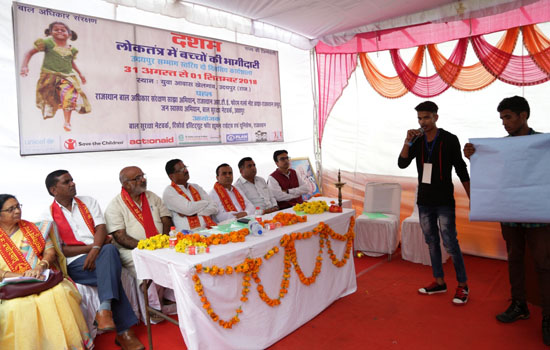 Udaipur: The historical event was conducted to discuss upon the priority issues and problems faced by children which must be included in the manifesto of different political parties in the upcoming assembly elections of Rajasthan. In order to pitch the issues and problems among various political parties, and incorporate those points in their manifestos, the campaign was launched with the name"Dasham- Baccho ka Maang Patra / Children charter of demands" by BAL SURAKSHA NETWOK Udaipur in joint collaboration with UNICEF and RESOURCE INSTITUTE FOR HUMAN RIGHTS, JAIPUR.
As a part of the campaign, the first divisional level workshop was organized at the Youth Hostel, Khelgaon, Udaipur from 31st August to 1st September 2018. The vision of the workshop was to organize different events at block, district and regional level on the issues of child protection and forwardcrucial issues to the major political parties. The workshop was attended by more than 150 children from different blocks of the region, representatives of agencies working for children's welfare and other concerned departments who together developed and presented the children charter of demands which are needed to be prioritized in the manifesto. Children along with experts had an intensive discussion through various interactive activities and presented the charter of demands during the closure part of the regional workshop which was accepted by both major political parties.
Raghuvir Singh Meena, applauded this unique initiative and promised the children to include their demands' charter not only at the state but will put his efforts to take it to the national level manifesto of their party. Dinesh Bhatt, District Presidentof BJP expressed that BJP will surely take the children's charter from district level to the state committee.Laxmi Narayan Pandya, Ex.UpZilaPramukh, Udaipur expressed that the issues of children should not be party-centric but it is everyone's obligation.
SindhuBenarjit, representative of UNICEF Rajasthan expressed her elation for organizing such an event for the first time in Rajasthan. Following this, Dr. ShailendraPandya, Convener of BalSuraksha Network briefed about activities conducted throughout the workshop. Dr. RajkumariBhargav, member of Child Welfare Committee admired the efforts of organizing a regional level event focusing on the welfare of children. Dr. VeenaDwivedi, Professor from Udaipur School of Social Work, Vijay Goyal and Mahesh Kumar Sharma, Rajasthan Child Rights Campaign, Dr. Shilpa Mehta, Foster Care Society, B.K. Gupta, Child Welfare Committee Udaipur, Subhash Joshi, Secretary Gayatri Seva Sansthan and Marjorie from UnnatiSansthan also presented their views and appreciated this first ever historical event in the state.
Dr. ShailendraPandya, Child Protection Specialist and Convener of BalSuraksha Network addressed and presented the audience with demands emerged out from the two-day regional workshop and informed that the experts will send out the detailed report of the Charter of Demandsto all political parties.
Issues to be included in the charter of demands
1. 43% of the population in Rajasthan is under 18 years of age, which is approximately half of the total population. But the total budget allocated for the children is 18%; this should be increased.
2. According to the Integrated Child Protection Scheme (ICPS), formulation of Child Protection Committees is essential at the block and the district level but very less work has been done in this direction. The government shall ensure that these Child Protection Committees will be created at all levels.
3. If tribal children of Southern Rajasthan are empowered towards sports activities then definitely many players can reach and perform at International level. Therefore, government shall establish Sports Academy in Udaipur district.
4. Majority of the tribelive in forest areas. Many times, Forest department displaces them without keeping in mind the appropriate living conditions for the children which affects all the children of the family. The government shall ensure safety and protection of the children prior to any such displacement processes or actions.
5. It shall be ensured that Child help line is established in both urban and rural areas of every district.
6. At all divisional and district level, it shall be ensured that necessary homes (children's home, shelter homes, girls' home) are established for children with care and protection needs.
7. On the basis of excellent and ideal schools, BalMitra Village Panchayat shall be formulated under Panchayati Raj Institutions.
8. To ensure provisions given under Right to Education Act (RTE) are followed, especially Teacher-Pupil ratio, separate toilets for boys and girls, quality nutrition and effective implementation of BalSansad.
9. Rajasthan Government shall be determined towards the aim of creating Rajasthan a Child labor and Child Beggar-free state.
10.Education system shall also add and focus on vocational studies and life skills (Physical changes/Health).
11. There shall be an appointment of Pediatrician and Gynecologist in government hospitals at the block level.
12.De-Addiction and Counseling centers shall be established for Adolescents at the district level.
13. In every school and hostel where girls are studying, it shall be compulsory to have female teacher and female warden.
14. All talented students shall be provided with scholarships, sports and other paid benefits regardless of their caste.
In the closure, Bhojraj Singh Padmapura, the Coordinator of BalSuraksha Network, expressed his gratitude and thanked UNICEF, Save the Children, Plan International, World Vision, Gayatri Seva Sansthan, Shree Aasra VikasSansthan, SevaMandir, Foster Care Society, Mahan SevaSansthan, Alert Sansthan, Child Welfare Committee and students and teachers from various government and private schools including Balika Griha Chittorgarh, Nirashrit Bal Griha Udaipur, Upper Primary Residential Government School, and AshrayaGrihaof Shree AasraVikasSansthanfor giving their valuable time and suggestions, and active participation in the workshop which turned it into a vibrant event.
---
© CopyRight Pressnote.in | A Avid Web Solutions Venture.