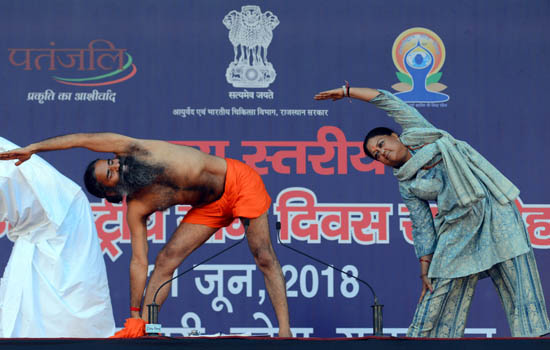 Kota/Baran/Udaipur: Thursday Kota created a world record bringing over a lakh of people together for a yoga session to mark the International Day of Yoga the main role in this achievements goes to Allen. Two representatives from Guinness World Records, watched as Yoga guru Ramdev put the gathering, which included chief minister VasundharaRaje, through a series of asanas at the RAC ground in Kota, the coaching hub of India.
The international private organization then handed over a certificate to Raje and Ramdev. "The largest yoga lesson was achieved by Government of Rajasthan, PatanjaliYogpeeth and District Administration at Kota, Rajasthan, India on 21 June 2018," the certificate read. Nearly two lakh people were at the RAC grounds for the state-level function, also attended by ministers, MLAs, and bureaucrats.
Cameras set up at the site and drones determined that 1.05 lakh people performed the asanas, beating the previous record of55,524 people in Mysore in 2017. The yoga camp started at 5 am and the 15 exercises that were part of the protocol for setting a record were performed from 6.30 am to 7 am.
Raje, meanwhile, announced plans to set up a yoga center with an 'acharya' to coach people at each district headquarters. She also asked Ramdev to set up an Acharayakulam in Kota, on the lines of the Vedic school set up by him near Haridwar. "Our culture considers the entire world as one family based on Vasudhaiva Kutumbakam. The country could emerge as the `Vishwa guru' with the help of yoga," Raje said.
CM praised students at Kota for being a part of the yoga event. "It is the moment of pride that the world record in Yoga is being set at a place where the entire nation dwells," she said, adding the importance of yoga increases in Kota as due to cut-throat competition, the students get tense and "nothing is better than yoga to beat the stress and tension".
"'Yoga roots out all bad habits and tendencies from the body and soul," Ramdev said.
Allen played an important role in making the World record possible with 72,000 of its students, their parents, and teachers taking part the vent. The students reached the venue by bus, van and on foot from 16 campuses across the city.
State Health Minister KalicharanSaraf, Agriculture Minister PrabhuLalSaini, legislators and top bureaucrats too attended the event.
In Udaipur main function held at BhandariDarshakMandap international yoga day was observed yoga day was celebrated in various organizations in Udaipur few of celebrations are summarized as under
New energy transmits Yoga - Prof. Sarangdevot
Udaipur Fourth World Yoga Day celebrated under the leadership of Sarangdevot, Prof. Sarangdevot said that yoga is important for the peace of mind, through yoga, we take positive thoughts, through which new energy is transmitted in the body. The practice of yoga benefits the physical, mental and spiritual health, which today is very important in the lifestyle of the race. Chronic diseases like psychotic, such as diabetes, cervical, constipation, psychiatric diseases are alienated from yoga MMPS: World Yoga Day was celebrated at Maharana Mewar Public School, where all students, teachers, and employees practiced Yoga.
NarayanaSeva: 551 people have practiced Yoga in Maha teerth situated at lio ka Guda ,NarayanaSevaSansthan. Halvai Caterers Development Committee has organized the National Yoga Day A message of healthy living at district level yoga ceremony.
In Baran, International Yoga Day Opportunities District Level Yoga Day was held at the Sriram Stadium, in which people's representatives, officials, and people gave a message of healthy living through yoga.
District Yoga Nodal Officer Dr. Ramesh Chandra Sharma said that on the occasion of Yoga Day, MLA RampalMeghwal and LalitMeena greeted everyone with the best wishes of Fourth International Yoga Day that Yoga is the basis of healthy life and all-round development is possible so that every person Should do yoga. District Collector Dr. S.P. Singh said that with yoga physical and mental development also provides spiritual joy, so every person should give place to yoga in daily routine, hence the joy of longevity can be achieved.
Yoga Camp organized by SantNirankari Charitable Foundation on International Yoga Day according to the directives of the Chief Saguru Mata Sevinder Hardev Singh Ji, by the Saint Nirankari Charitable Foundation. Facials Yoga with 1818 People Yoga Day was organized at Dynamic Yoga Center at 6.30 am to 11 pm and then from 3 pm to 7 pm in different sessions, free yoga was done at different places. Thousands of people have taken advantage of these sessions and in the future, they have also decided to do yoga every day. In association with DPS School, a special session of Facial Yoga was conducted with 1818 people at the school premises.
---
© CopyRight Pressnote.in | A Avid Web Solutions Venture.