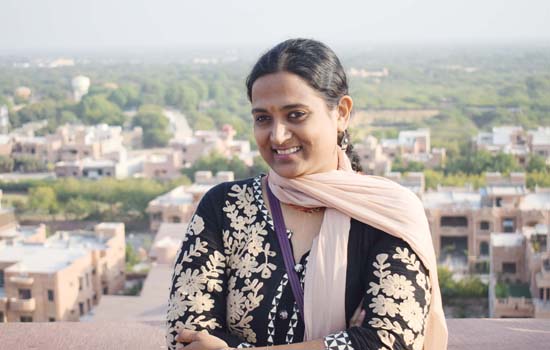 Jodhpur: Rajasthan based Saarthi Trust's managing trustee and Rehabilitation Psychologist Dr. KritiBharti, who has been fighting against child marriages and making victims their child marriage annulled, has touched the new heights by inclusion her name as member in the International Advisory Group of None-in-three centre of United Kingdom. This centre is being funded by the Government of UK and being executed by the University of Huddersfield. Dr.Kriti will advise to the centre activities as expert for the next four years.
Government of United Kingdom has established none in three centre to address to prevent gender based violence. This centre will create pro-social, anti-violence computer games for use in schools. These games will be designed to increase Gender Based Violence awareness and to enhance empathy/non-adversarial problem-solving skills among young people. This innovative research centre is possibly the first of its kind in the world. The International Advisory Group comprises of ten international experts selected for their expertise in diverse but relevant disciplines. From India, Saarthi Trust's managing trustee and Rehabilitation Psychologist Dr. KritiBharti has been selected for her tireless efforts towards Human Rights and annulment of child marriages. Dr. Kriti, who also works for the rehabilitation of victim girls, got this honor for her contribution to child welfare and women upliftment. Dr. Kriti will work as a expert with the representatives of China, India, Uganda, UK and Jamaica to prevent gender-based violence.
After the enactment of The Prohibition of Child Marriage Act, 2006, the first annulment of a child marriage was done by the efforts of Dr. Kriti. This act found its way into the Limca Book of Records, World Records India Book and also CBSE textbooks. Even after facing threats and obstacles, Kriti has managed to annul 36 child marriages till date. Apart from it, she has prevented thousands of child marriages. Dr. Kriti is the recipient of a number of other national and international awards. She has been included in the list of 100 inspirational women of BBC as well as awarded with the International Changemaker Award by London based organization Girls not Brides and also awarded by the State Government.
"Research says, One in three women and girls experience physical or sexual violence in their lifetime. The None in three Centres is committed to change this reality. I feel honoured that my work is being recognized at International level and feeling delighted to be a member of its International Advisory Group"- Dr. KritiBharti, Rehabilitation Psychologist and Managing Trustee of Saarthi Trust.
---
© CopyRight Pressnote.in | A Avid Web Solutions Venture.