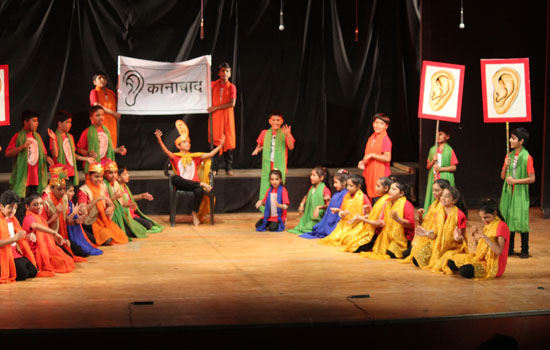 Saturday evening proved very successful as around 60 children artistes impressed audience with their acting caliber. The first play "KaunBadaKaunChota" had huge cast of tiny children. Directed by Anita Pradhan, a seasoned actress and director from Jaipur this play was studded with properties, elaborate costumes, music and make -up. Children remembered their dialogues by heart and at times were over enthusiastic. Spectators instead of minding mishandling of properties appreciated their acts. Their drama was well received by audience. Anita's choice of play and theme was very close to small children even they also read lessons in their Text Book on Human body and significance of organs like mouth, nose ear and eye. Human body can function properly only when all organs collectively and happily work. The play was entertaining and educative. Fun loving children enjoyed their acting, dancing and singing with note of healthy entertainment to audience.
The next play was " ParhamenKhelnaHai" was presented by comparatively older children. Directed by Susheel Kumar Sharma this was a well knit play emphasizing on communal harmony. School going children are innocent they only know how to honor friendship; they do not believe in cast and creed and love each other. Some self centered politicians try to break the age old tradition of peaceful coexistence. The parents of these children get panicky and start hating each other whereas children control the situation and avoid communal riots.
Director Susheel Sharma form Delhi is a professional Drama Director besides a sensitive music composer. His production had all the important aspects of a good theatre and received appreciation for his commendable work.
Children displayed their natural talent mixed with theatre discipline with the result they could create required effects. There were many scenes with different suggestive settings and the back stage team as well actors were trained to replace settings within stipulated time of fade out. This practice makes children acquainted with the other aspects of theatre enriching their experience. Applaud to all the actors for brilliant presentations.
ShriFurqanKhan,Direcor , West Zone Cultural Centre told that with the objective of utilizing the summer vacations the children of the lake city were given special training of various aspects of theatre of 15 days workshop held at Bagorki Haveli. About 60 children actively took benefit of this opportunity.
It is true that such workshops with children make them responsible persons and enhance their personality. Children also learn concentration, coordination and understanding. These workshops also help in increasing sensible spectators for dramas. I hope with such pace Udaipur may also become a venue for Children Theatre Festivals.
---
© CopyRight Pressnote.in | A Avid Web Solutions Venture.