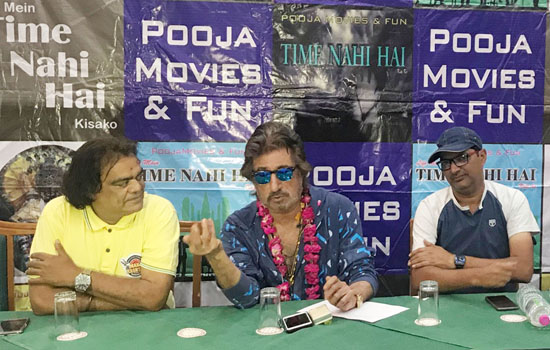 Udaipur: Nowadays everyone says that 'there is no time', especially the young generation who has time for fun and social media, but when it comes to home and family, they say that 'I do not have time'. Everybody is busy, if there has been an accident in the house or there has been a big calamity, but even then the matter is not taken by saying that the responsibility is taken away. This is also the reason for interception among generations. Producer under the banner of Puja Movies and Fun, on this important subject, developed a film Time Nahinhai The film has been shot in Udaipur and Mumbai. In the film, many prominent Bollywood actors have played great and memorable characters. The film will be released on October 15.
Producer Manish Randad said that the story is from a Maratha businessman from Udaipur, of the Maheshwari family, in which the work of time between father and son is shown keeping the foundation of social fabrication. This movie, under the banner of Pooja Movies and Fun, has an interval. About the time in the film, there are so-called excitement of generations, In a happy family environment, one generation explains the value of time from one to another generation, brings it out of the time zone of Time Nahinhai, it is worth seeing. Manish told that this story is not ours and ours, we all have a story about home and family. This is the crisis today that nobody has time in the whole world. The shortage of time is also affecting social and family relationships.
After watching this family movie, the son of every family will be able to learn the work of family members on time while caring for the time. It is also a try to deliver this social message through the film. Artists who have been influenced by cine stars have filled the rainbow colors with their acting. The film will be released at the National and International level.
Bollywood's famous actor Shakti Kapoor, who arrived in a press conference on Wednesday in Vishnuppia, said in his own style that 'There is no time' which is the name of his new movie. He shared his experiences related to the film. The plot of the film is such that it will make laugh and will teach the art of laughing and crying. The story of the film is written by producer Manish Randhad (Maheshwari).
This film will show a new direction and a mirror to the entire society. By watching the film, the audience will also take this thought that every person should give time to the family, even if there is any calamity in life. Film producer Manish Randad (Maheshwari), ShyamMalani, Rajesh Rand, Sanjay Garg, Vishnu Sarda, director Manoj Sharma, line producer Sunny Agrawal were part of film production. The cast includes Shakti Kapoor, Krishna Abhishek, RajpalYadav, Rajneesh Duggal, YuviikaChaudhary, GovindNamdev, HimaniShivpuri, TikkuTalasaniya, ShekharShukla, HemantPandey, RekhaVashishta etc. in the film. Music is given by Praveen Bhardwaj.
Amitabh Bachchan- My Role Model: Shakti Kapoor
"Teen takginoongatereemahaboobako ,aardoonga, saattakginoongatereemaanko maar doonga, das takginoongaterebaapko maar doonga. savere, dopaharaurshaamko is tarahkedaayalogbol-bolkar jab main bor ho gaya to kuchhhatakarkaranekeesochheerahathaki"I was thinking of doing something aside, with the superstar Amitabh Bachchan, SattepeSatta and Bap Nambari Beta das Nambari films, the image of Villain Paused and he became expert in all kinds of rolls. These views were expressed by Bollywood actor Shakti Kapoor in the press conference on Wednesday.
In response to the question of journalists, he said that Dialogue AauLalita, spoken by Jitendra, Sridevi, Jaya Prada and Shakti Kapoor starring superhit film Taohfa, was so popular in that time that it became a TakiyaKalam for school and college students. He said that this dialogue boys used to speak to girls after watching the film outside the college. Due to this dialogue, 20-25 students were also arrested. Kurbani, Raja Babu, and AndazApnaApna were his popular films He played Villain in nearly 150 films.He said that in some of the films he also played the role of Hero but he failed to get audience support. Apart from this, he produced some films, but either shooting did not start, then he got stuck in the middle. He has acted in every language of India. His upcoming films include Raja Rangila along with Govinda. He described Amitabh Bachchan as his role model and presently, RanveerKapoor as the future Amitabh Bachchan. New actresses ShraddhaKapoor and Alia Bhatt are good actresses he added.
---
© CopyRight Pressnote.in | A Avid Web Solutions Venture.