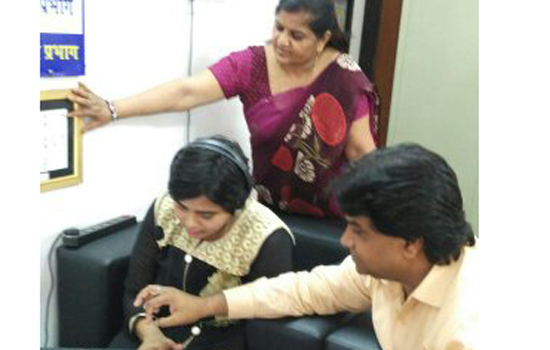 Kota: Great to inform you that our Govt. PDDU Divisional Public Library opens a new page in the History of Rajasthan because it's a First Public Library in the Rajasthan (and Second in Nation after Kerala) which is introduce library Services to Transgender. As you know the transgender was unwelcome in libraries too as in several other places. So in this World Book Day- 2018 we avail library membership Card to Sahiba (Transgender).
In a revolutionary move, the Govt. PDDU Divisional Public Library Kota has introduced membership for LGBT communities and has added a column for third gender in its membership form. The first membership card will be presented by Dr. SurabhiGoyal to transgender Shahiba in an event to be organised at the library, as part of world Book Day - 2018 celebration. "Education was a right which had been always denied to us. We had suffered discrimination the most at educational institutions. To gain membership in a library and to borrow books had been my long-cherished dream. It is a huge recognition for us to be part of a library and many people would be benefited by this decision. If we had an opportunity to access libraries earlier, there would have been more transgender community," said Shahiba.
"It is high time that the society accepts them. Through library memberships, we aim to provide them a platform for transgender. A new world will be opened for them, which was denied to them earlier," said s Dr. Deepak Kumar Shrivastava, Divisional librarian and Head GOVT. PDDU Divisional Public Library Kota.
Here it is important to mention that GOVT. PDDU Divisional Public Library Kota is well known and famous for library services for visually impaired and differentially abled people. I this connection they avail Text to Speech (TTS) facility in Hindi and English Text , Instant Reading Machine , Focus Forty , Braille Books , Online Books , Offline Audio books and Plextalkwachak and many more . In spite this library is famous for Community engagement innovation like they are providing Tele- Health Services every with India's renowned Doctors from Medanta The Medicity and also provide deep consultancy through e- clinic Services. For Kids they Provide E-mail Home work Assistance services to kids of Kota city where you have to mail to library and instantly on the Same day or in next working day they avail you e- literature on your screen.
Now the library Collection can be access by elibrary Website at your doorstep. I as I interviewed to Dr. D. K.Shrivastava, Divisional librarian and Head GOVT. PDDU Divisional Public Library Kota. He specially mentioned that there Innovation are highly appreciated by Bill and Melinda Gates Foundation (BMGF) and so far he has been listed in Top 26 Innovators of India and recently considered 6 Influencing Public Librarian of India. Recently He Has been awarded by "MOST CREATIVE THINKER AWARD" in Melbourne (Australia) by the IFLA President Christine Mackenzie and US Global Libraries President. Deboroh Jacob in 2017.
In the beginning of the Year, District Administration Kota honored him for Excellence in Public Library field and for Authored the Three Valuable Books namely- Library Services for Engineers, Information Need and Seeking Behaviour of Educators, Innovative Library Services for Leading edge librarians on Better Morning 26th Jan. 2018. But Progressive Steps are still in continuation and hence on this world book Day He has been awarded by YOUNG LIBRARIAN AWARD on 25th April 2018 in Jaipur by JALIS and MotiLalSanghi Association. Also want to share he is First M.Tech IT Degree Achiever Public Librarian of India.
---
© CopyRight Pressnote.in | A Avid Web Solutions Venture.