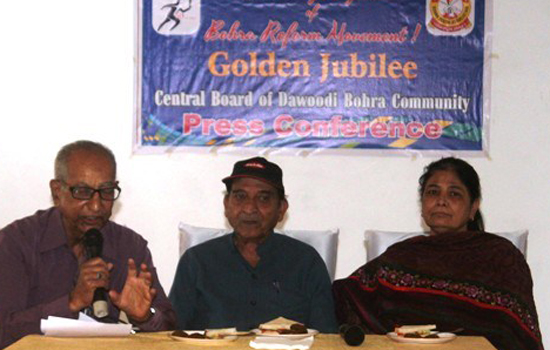 udaipur : Reformist Bohra community members has started celebrations for completion of 50 years of their reform movement from 29th . will will last for a period of 2 years culminating in 2020.
The golden jubilee celeration with a symposium at RNT Medical college auditorium. The Chief Guest for the event was Mani Shankar Aiyar, former Indian Diplomat and ex-cabinet minister. The Guests of Honour for event was Vibhuti Narain Rai (Litterateur, EX-DGP, UP, Ex-VC Mahatma Gandhi Antarashtriya Hindi Vishwavidhyalaya), Suhasini Ali (President, All India Democratic Women's Association and former MP from Kanpur) and Hasan Ali (Popular Indian Lyricist and Song Writer). The programme was presided over by Abid Adeeb, Patron, Central Board of Dawoodi Bohra Community (CBDBC).
Mansoor Ali, Chairperson, CBDBC informed media in a press meet t hat the movement has been running since 1970. The reformist movement was started in 1970 against the social, economical and political atrocities that were being meted out in name of religion. The initial protest against these atrocities found widespread support resulting into a movement which then took shape of the reformist Bohra community. He said that objective of this movement is to set the community free from these fraudulent practices in name of religion.
Irfan Ali Engineer, CBDBC, Abbas Ali Nath, President Dawoodi Bohra Jamaat & Rehana Germanwala also shared their views with reporters. The community members said that they felt proud on starting off the golden jubilee celebrations and it gives them belief about the strength of their movement.
, Akthar Hussain Bohra informed that a two-wheeler rally has started from the Jamaat Office at Bohrawadi at 7:30am on 29-Apr. This rally passed through various routes and finally reached at RNT Medical College Auditorium where symposim has organaziied
---
© CopyRight Pressnote.in | A Avid Web Solutions Venture.