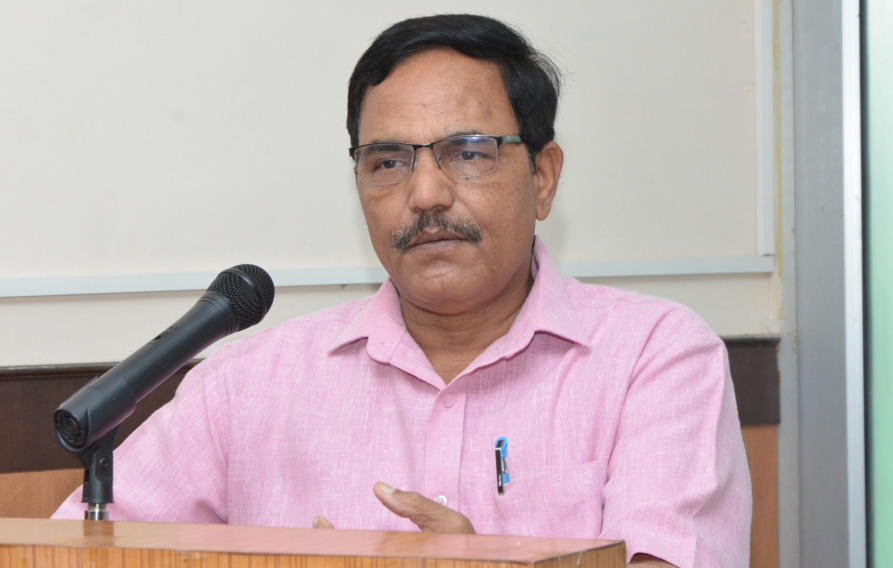 A Day Workshop on Creating Biosafety Capacity in the Organizational Research organized jointly by, Biotech Consortium India Limited, New Delhi and MPUAT in collaboration with the International Organization of UNEP-GEF Seroted Phase II Capacity Building Project, Biosafety and Environment Ministry, Forest and Climate Change, Government of India, New Delhi on April 27th
Prof. Uma Shankar Sharma, Vice Chancellor, Maharana Pratap Agriculture and Technology University, said the production of a crop with biotechnology not only flourishes the crop in the country. Poverty and starvation can be overcome. Nowadays the area of fertile land is continuously decreasing in our country and it is necessary that through biotechnology we will have to increase our crop production. we must also keep in mind that the impact of the heritage crops is affecting our land. How can we compete with many chemicals and pathogens produced from such crops? Emphasis on the need for such research. Is need of hour Prof. Sharma added.
He revealed that with biotechnology, India stood the first place in cotton production in the world and 96 percent of the total area of cotton is in the BT cotton
Dr. Vishwa Ahuja, Chief Managing Director, Biotech Consortium India Limited, New Delhi said in his note that every country has created biosafety system. India has been a member of the Cartagena Protocol since 2003. Today, 171 countries of the world are members of this Protocol (Manual). Under the Environment Protection Act of 1986, the Genetic Environmental Approval Committee (GEAC) is the nodal agency to create rules related to genetically modified crops. The rule declared under "Cartagena International Protocol" is valid for sending paragary crops from one country to another and all the countries follow it. This workshop was informed about the developed kit for checking the truth of Bt crops. Research is going on in the areas of biotechnology in India, rice, maize, mustard, brinjal etc. The opinions of farmers and officials about biotechnology are different.
Dr. Murali Krishana, Member, Genetics Environment Recommendation Committee (GEAC) and Joint Director, Environment, Forest and Climate Change Ministry, Government of India, New Delhi said that the Ministry is working in 52 institutions of India, in the areas of biotechnology, mainly Work on biological, crop protection and posterior aspects of special crops is being done. The scientific work done by the Ministry in relation to Biosafety at the State and international level is disseminated to the various institutions, farmers and other related institutions and knowledge generation are done. Dr. Krishna said that work is being done on the investigation and verification of protected organisms in 9 institutions of the country. With this view, India's position is quite stwrogn. Knowledge-based kits have been prepared in the 8 languages on Biosafety by the Ministry, through which the practical knowledge of biotechnology can be learned.
Dr. Abhay Kumar Mehta, Research Director said that the farmers in Rajasthan state are familiar with BT cotton but BT Bangan, Paragini Maize, fruits, and vegetables are not familiar with. Research on the first and second level of Biosafety was done on Paranaei maize at Maharana Pratap Agriculture and Technology University. But it is necessary to develop a complete knowledge about it so that the farmers can decide about the goodness and badness of the technology itself and adopt BT technology. He said that compared to conventional cotton from Bt cotton, 30 percent increase in yield and the number of insecticides decreased by 40 percent. He said that more than 250 biotechnology products are currently available in the country, but before adopting biotechnology in the area of agriculture, accurate study of socio-economic aspects is necessary.
Program organizing Secretary and Regional Research Director Dr. S. K. Sharma said that during this workshop, two technical sessions were organized on Biosafety. In the first session, by Dr. Murali Krishnan, the Bio-Security Act in India- an innovation, Dr. Vaish Ahuja, Chief Manager, Biotech Consortium India Limited, New Delhi, on the aspect of science and security of GMO, Dr. O. P. Govilaya, former Professor, Indian Agricultural Research Institute, New Delhi conducts the conduct of limited field protocol to ensure effective management and monitoring, and Dr. Sialia Chellam, Chief Scientist, NBPGR, New Delhi, detects liquid transmitted organism and transports flows In the second session, Dr. Devendra Jain gave his lectures on topics like display of the use of strips, etc.
---
© CopyRight Pressnote.in | A Avid Web Solutions Venture.