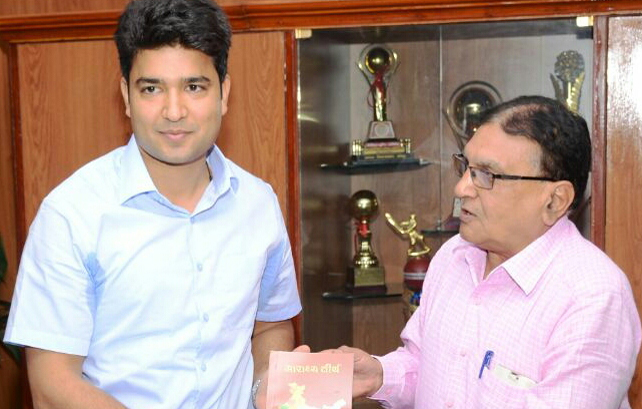 India is truly youth countrys 65 percent young-ones are putting full efforts in nation buildings, It is a matter of happiness that today in Kota, a large number of youth come from various parts of the country for fulfilling their dreams. I am fortunate enough as the government has given the opportunity to help young people in Kota.
Newly- joined district collector Gaurav Goyal told in a meeting that he would provide coaching students homely atmosphere in hostels and paying guest places , a proper monitoring would be made so that they may get quality meals, proper guidance and get positive response from officials and coaching institutes, resposibiltes will be imposed so that like previous years sucidial cases mininmize to zero He said that for this, guidelines issued by the government will strictly be followed. Maintaining peace and law and order in the district will be their first priority.
Media-friendly Gaurav Goyal is rich with enthusiasm. He do not believe in growing flowers on paper With practical and positive thinking , common people were given instant benefits in government services, timely completion of projects, uninterrupted supply of electricity, water and everyone's participation in the development of the district with team spirit would be his line of action from day one
Goyal said that the people's representatives in the democracy have a very important role. The biggest challenge is to identify the right and wrong person. Things can only be improved with the inclusion of people's representatives and politicians. He believes that bureaucracy and public representatives must work together. For betterment of comman-man
Goyal believes that youth should get proportional guidance, get good education, get good jobs, get positiveif it happens, no one can stop the country from becoming world power. Positive Attitude and hard work are very important. There is no shortcut to success. Hard work has to be done. Spirituality is very important with positive thinking. pooja, meditation, yoga, or religious book are guiding Indian since long . To stay happy,one must learn about religion to balance the mind. Dr. Singhal presents a copy of a book "Adbhut Teerth" written by him ". Aaradhy tirth""
In the first meeting, Goyal also gave clear signals of his work system to the officials. All have to work together in coordination. The citizens should not come again and again with same problems at government offices There will be a review of development works. Action will be on negligence at any level.
Gaurav Goyal is fond of playinggames reading books, running, listening to music specially of Kishore Kumar and Mohammad Rafi, playing tennis and table tennis. loves to read religious books. Have a curiosity about learning about Vedas. He participated in the first half Marathon of Life in Pincity Marathon held in Jaipur on February 14, 2016 and ran for 21 kms in two hours and one minute.In free times he loves to listen music & enjoys Lawn tennis and table tennis.
Goyal was born in Sikar, Mediun of studies was English medium He took admission in Shriram College in Delhi for M. Com after completion of PG he appeared in IAS later joined Rajasthan goyal has been honored several times is his carrier as IAS He has been recently transferred from Jodhpur.
---
© CopyRight Pressnote.in | A Avid Web Solutions Venture.