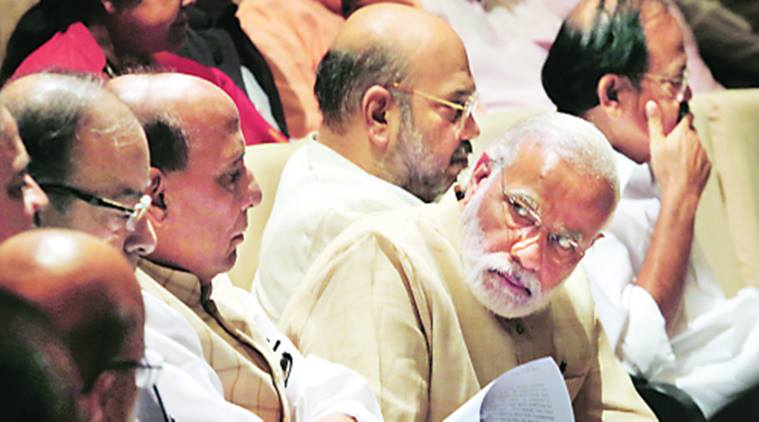 The victory of Bhartiya Janata Party at the center in May 2014 set up a new era of electoral politics in India which continues with greater vigor and force till date. It has relegated to the background the very fundamentals of a democracy in which elections are an instrument of finding out people's aspirations and formation of a government which reflects people's opinion. With national and international media playing to the fiddle of the corporate, both national and international, it has become impossible to gauge the aspirations of the people much less to find out the real opinion of the people. Elections have become an event which is to be managed by hook or by crook in order to gain a victory. Victory is the most important thing and all codes of Model Conduct laid down by the Election Commission are flouted by almost all political parties. Not that in previous elections money was not used, It was used then also but the extent at which reigns are held by the capitalists and their adopted "Godi" media was never seen before. Despite large-scale misuse of money in propaganda, if the BJP failed to win majority still governments were made by engineering alliances in the most unnatural manner and also a large-scale shifting of loyalties maneuvered by various means. The elections held last month in three northeastern states of Tripura, Meghalaya, and Nagaland. In Meghalaya, the Indian National Congress has won 21 seats and has emerged as the single largest party but BJP with just two seats seems to be succeeding in making the government with a local partner NPP which has won nineteen seats. Since the people in Governor houses are appointed as per the political convenience of the ruling party at center it becomes easy to forge alliances and stake claims which apparently appear anti-democracy. In Nagaland, the Indian National Congress and Bhartiya Janta Party have both won equal seats but BJP is all set to form the government by forging an alliance with "Others". The same happened earlier in Goa and Arunachal Pradesh where INC had emerged as the single largest party but governments led by BJP were formed. In Goa Congress had won 18 while BJP had won only 14 seats but the latter succeeded by gaining the support of others which were eight in number. In Tripura, BJP has won 35 seats and its ally IPFT has won 8 seats. The left front has been reduced to 16 seats. It is interesting to analyze the victory of BJP and defeat of CPM in Tripura. BJP has got 35 seats with a vote share of 43% while CPM got only 16 seats with 42.3% vote share. The main reason was the acute fall in the vote share of Congress which had 36.53 % of votes in 2013 elections fell to merely 1.8% in 2018. This percent of vote share shifted to BJP which had no seats in 2013 when the total seats were divided between CPM (50) and INC (10). It was like Delhi where the Aam Adami Party bagged 67 seats simply because the nearly 10% vote of Congress shifted to AAP in the last Assembly elections.
Bhartiya Janta Party is backed by the country's biggest capitalists and its close collaboration with them is reflected in its policies as well. The market capitalism which was adopted in 1991 when Dr. Manmohan Singh and Narsimha Rao led India to sign the WTO papers, today determines our democracy. Thus the issues of common men, of poverty and unemployment are simply absent in the entire discourse of political machinery. Elections are won on emotive issues and victories are managed by market governed higher forces. The country is heading towards a democracy without people's issues but run in their name.
---
© CopyRight Pressnote.in | A Avid Web Solutions Venture.