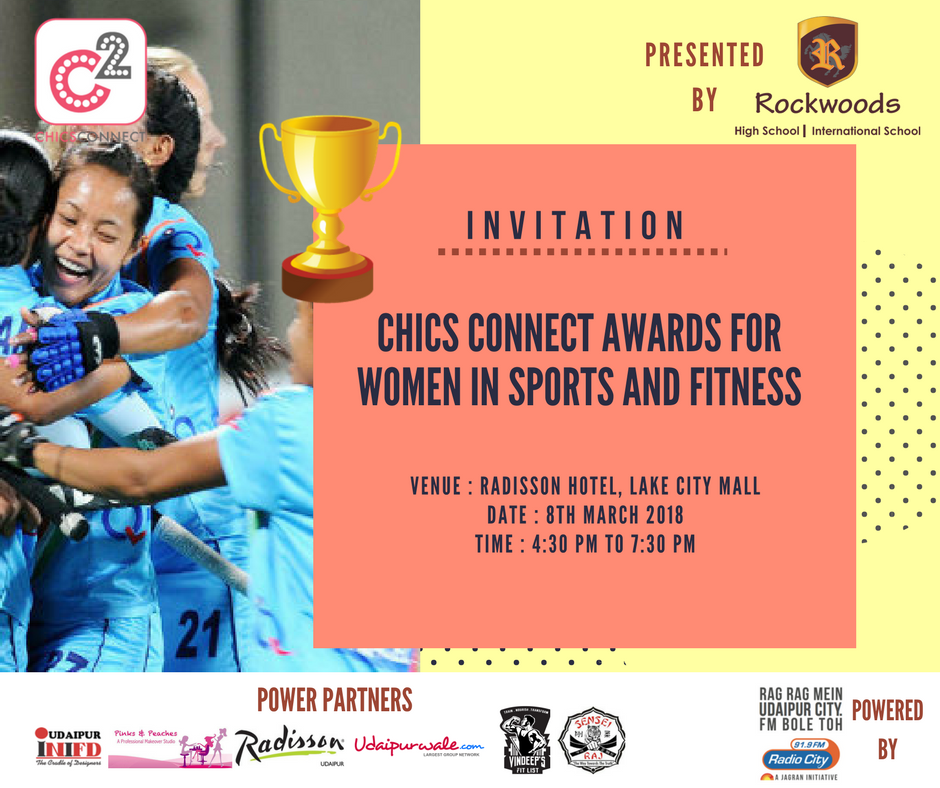 International Women's Day, 8th March is celebrated across the globe to celebrate womanhood and also recognize and encourage the extraordinary women and their endeavors to venture in the road less traveled.A similar effort has been taken by Udaipur's CHICS CONNECT by organizing CHICS CONNECT AWARDS FOR WOMEN IN SPORTS AND FITNESS UDAIPUR in association with Rockwood School, an award presenter, to be held at Radisson Hotel, Lake City Mall, 8th March 2018 from 4:30 PM - 7:30 PM. In the ceremony, CHICS CONNECT will award 50 women from sports and fitness from the city, where they have got so many nominations from across the city with eminent jury panel on board
- Dishant Yagnik ( Cricket Star from Udaipur city),- Mala Sukhwal ( International Weightlifter ),&- Surbhi Misra ( Squash Champion, Jaipur )From 4 years to 45 years, women across all age groups have participated in this award ceremony.
Hurratul,Director,CHICS CONNECT informs that eminent people from city joining us including, Mrs. Banu ( Bronze Medal Winner At Asian Games ) , Rajni Dangi ( ex- President MCU ), Deepak Sharma ( Director Rockwoods ) , Surekha ji ( National level gymnast ), Raj Menaria ( Director, Sensei Raj Academy ) , Mrs. Alka ( Principal CPS School ), Dishant Yagnik ( Cricket Star from Udaipur city), Mala Sukhwal ( International Weightlifter ) , Arjun Paliwal ( Director 4sure fitness ), Meeta Khathuria ( Director Pinks and Peaches), Director INIFD, Vindeep Methani ( Director Vindeep Fit List), Zaheer Abbas ( Founder Udaipurwale.com) , etc. will not only grace the ceremony but extended the hands of support in this grand celebration
The event has following performances:
- Performance of self-defense by the girls of the Martial arts academy
- Gymnastics Performance by girl students of the Rockwoods school
- Folk Dance of Rajasthan by international troop
---
© CopyRight Pressnote.in | A Avid Web Solutions Venture.