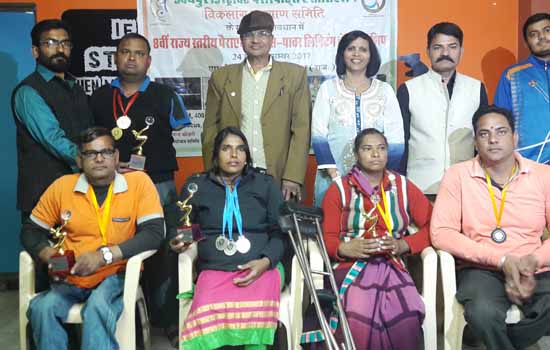 Udaipur: The winners of eighth state level para athletics and power lifting championships were honored by the office bearers of Udaipur district para sports association.
UDPSA president Mrs. Leena Sharma said that 5 out of the 6 medal winners were fielded for the first time without any training in just 2 days practice.
Rishi Raj Singh Rathore has returned after receiving the medal for the young Asian Games. Mrs Leena Sharma announced that from February 2018, para players, will get regular, free fee therapy and traning from experts in evening on regular basis.
Secretary, UDPSA, Mr. Govind Singh Rathore assured the players that they would provide necessary facilities for all the upcoming events for promoting t enthusiasm in players.
In this program, Mr. Yashwant Kothari has given blessings to all winners.
Mr. Bharat Kumavat welcomed and congratulated everyone.
It was also announced in this program that a documentary will be made by Mukesh Madhavani M Square Production and Rajiv Surti Dance Factory, in which para players who won the Arjuna Award & internaltion medals will be included
Felicitated players Rishi Raj Singh Rathore, Ambala Teli, Jamna Devi Suthar, Lokesh Chaudhary, Kamlesh Vaishnav and Tulsi Ram Chauhan, will participate in the upcoming National Para Athletics.
---
© CopyRight Pressnote.in | A Avid Web Solutions Venture.