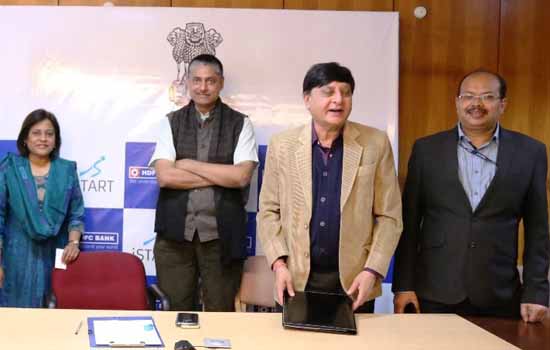 Udaipur: HDFC Bank announced a partnership with Government of Rajasthan to promote and nurture the start-ups in the state. Under the MOU, HDFC Bank will partner with the state Government to provide end-to-end solutions like current accounts, credit cards and other solutions to start-ups under SmartUp programme of HDFC Bank. Further, the Bank will not only evaluate the offerings by Start-ups in Rajasthan but also given them an opportunity to showcase their solutions/technologies.
At an event held at Yojana Bhavan in Jaipur, an MOU was signed between Akhil Arora, principal secretary -
IT & Communication, Government of Rajasthan and Smita Bhagat, head – branch banking, government business and ecommerce, HDFC Bank, in presence of Satyen Modi, zonal head, HDFC Bank and other Bank officials.
The partnership with the state government is part of a larger effort by HDFC Bank to create an ecosystem to nurture the spirit of innovation and enterprise in the start-up space across the country. In October, the Bank announced the launch of dedicated SmartUp zones at branches across India including Jaipur. A SmartUp zone is located inside Ashok Marg branch in Jaipur.
Through these SmartUp zones, specially trained bank staff will offer tailor-made banking and advisory solutions to entrepreneurs. Furthermore, by accessing the bank's new SmartUp portal, start-ups will be able to tap into the knowledge and experience of a complete network of start-ups while simultaneously offering their services to this universe.
At HDFC Bank, the objective is to harness the potential of the start-up and fintech eco-system using a multi-pronged approach. The SmartUp zone is one such initiative. Recently the Bank also announced the launch of Industry Academia where it will work with the incubation and entrepreneurship cells at IIT Bombay, IIT Roorkee and IIM Ahmedabad to mentor start-ups at these institutions.
The Bank intends to take this programme across other leading educational institutions in India.
The Bank's Digital Innovation Summit in its second year has enabled it to get ideas in fintech space particularly in AI and machine learning.
For example, our chatbot Eva is from Senseforth, a fintech and one of the winners at the Digital Innovation Summit.
---
© CopyRight Pressnote.in | A Avid Web Solutions Venture.