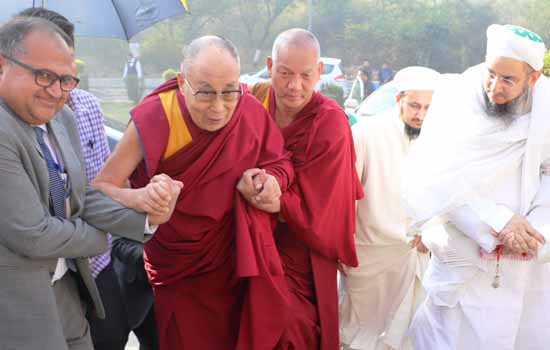 Udaipur : It was a historic morning in New Delhi. His Holiness Syedna Taher Fakhruddin Saheb, head of the Dawoodi Bohra Community presented the Syedna Qutbuddin Harmony Prize to His Holiness the Dalai Lama, religious leader of the Tibetans. The Prize is awarded annually to honour an individual or organisation whose work has had an exceptional impact in promoting harmony and peace in India as well as globally. The Prize carries a monetary value of Rs10 lac. Through the Taqreeb Harmony initiative Syedna Qutbuddin sought to propagate affectionate relationships and mutual cooperation between all who call Mother India their home, and indeed between all members of the global human family
Present at the august gathering were senior religious leaders of all the major religions of India, meeting in the Convention hall of Jawaharlal Nehru University: His Holiness Acharya Dr. Lokesh Muni, Jain leader, His Eminence Archbishop Anil Joseph Thomas Couto, Sardar Manjit Singh GK, President of Delhi Sikh Gurdwara management Committee, Rabbi Ezekiel Isaac Malekar, Head of the Jewish Community in New Delhi, Shri Gaur Gopal Das, and Justice Aziz K. Ahmadi, former Chief Justice of India.
Syedna Fakhruddin, in his address, invited all the leaders to discuss and implement a coalition to fight the forces of conflict and division in India and the world. The Dalai Lama expressed sincere appreciation to Syedna Taher Fakhruddin TUS, as a Muslim leader for organizing a conference that brought together different faiths. He expressed sadness for the sectarian divisions that were dividing the country and congratulated Syedna for leading the country in a more positive direction. He said that the modern study of psychology pales in comparison to India's deep and age-old tradition psychological awareness. He said, "To decrease destructive emotions like fear we must increase positive emotions like love"Jain leader Acharya Lokesh Muni said that Syedna Fakhruddin Saheb and his predecessors, by their work on the ground across India in providing institutions of civil society such as schools and hospitals, has brought the concept of harmony into action.
The senior leaders of all the faiths expressed their solidarity with the Taqreeb effort, and emphasized that each of their religions promoted understanding and harmony among all human beings.
Syedna Fakhruddin also said that it is better for all of us, to focus on such efforts more when they take place, rather than only focussing on disasters and attacks after they have been perpetrated.
Syedna Fakhruddin outlined that harmonious existence must be a mind-set – not a one off strategy. He narrated Syedna Qutbuddin's outlook that brought people together in all matters. Syedna Qutbuddin's vision was to focus on doctrines that espouse peace among the human family and on exemplars who promote harmony.
Syedna narrated this saying by Maulana Ali - "The Distance between the sky and the earth is a prayer" Syedna Fakhruddin prayed that peaceful coexistence continue to build our country and the world stronger – and he added his hope that someday the world was filled with more stories for cooperation and harmony than disagreement and discord.
---
© CopyRight Pressnote.in | A Avid Web Solutions Venture.