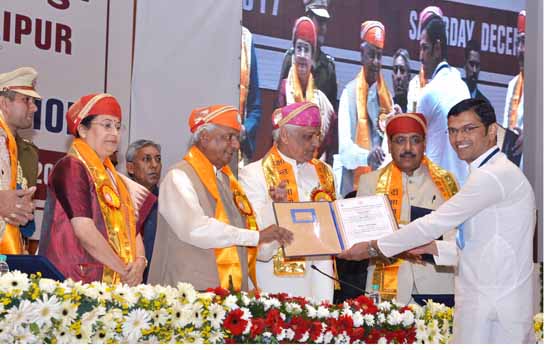 Udaipur: Governor Mr. Kalyan Singh said that the decline in politics from general to politics, language and speech is a matter of concern in the current round. He explained the need to consider compulsory additional curriculum for universities to develop self-confident, clean, restrained and polite speech in future generations.
Mr. Singh was addressing the 25th convocation of Mohanlal Sukhadia University in Vivekananda Auditorium in Udaipur on Saturday. The Governor gave a total of 202 gold medals and Ph.D. degrees in the ceremony.
He said that humble speech in the field of employment, along with social harmony, has a major role in art. In order to develop communication skills in interviews for employment in the private sectors including the government, the Governor called upon MLSU to play the role model.
He directed universities to work all together with study-related social issues. Keeping them looking at various social issues, they have to get the proper solution for the society. He told the social sciences faculty the need to come forward for this.
The practical test of youth is yet to come
The governor said that degree is basically theory part that the practical examination of life should be given later during education so that they may get proper job placements. He said that youth will have to play an exemplary role in nation building, with the resolve to make a new contribution to their locality, city, village, then there will be the true meaning of life.
In the function, the Minister for Higher Education, Smt. Kiran Maheshwari said that the government is working towards achieving quality education for quality education in the state. Rajasthan Government has opened 45 new state colleges in the last four years.
The Government is making an effective effort to open the college on the remaining 22 sub-headquarters of the state. He said that for the development of infrastructure in 100 colleges in the state, the amount of 2-2 crore has been provided with RUSA. In every college Presenting the convocation function, Vice Chancellor of Mohanlal Sukhadia University Prof. J.P. Sharma said that the University is adopting many innovations in the interest of the students and adopting their credentials. He always resolved in the interest of the society and assured the best of the University.
Spiritual Center Corner Launches
Governor Shri Kalyan Singh on this occasion inaugurated the Swadhya Session on behalf of the University Health and Spirituality Center on the university's website, based on the discourse of Shrimad Bhagavat Sanjivani. This page is now part of www.mlsuac.in, the site is design and developed by Avid Web Solutions (Pvt.) Ltd.
57 gold medals and 145 Ph.D. degrees
In the function, 57 gold medals and 145 initiatives were handed over to Hon'ble Governor was given the title Among them, gold medals were awarded to 13 men and 44 women and Ph.D. in 75 men and 70 women aspirants.
---
© CopyRight Pressnote.in | A Avid Web Solutions Venture.