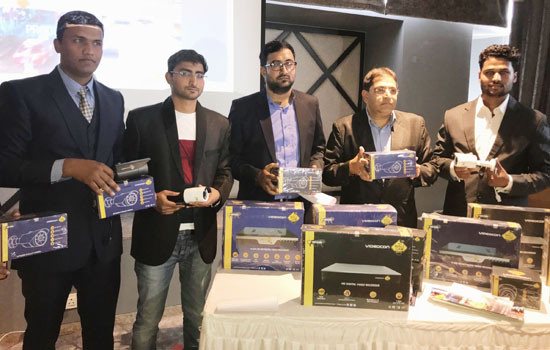 Udaipur : Videocon WallCam, the brand engaged in providing End-to-End Security & Surveillance solutions talked about its range of Video Surveillance products including simple plug & play solutions for Retail segment (primarily household & small commercial establishments like shops/office) to high-end and sophisticated products and solutions for Enterprise, Corporate and Government Segment.
Among the products Brand is offering for Retail segment includes AHD Cameras (Analogue high definition) and DVRs (Digital Video Recorders), Video Door Phones, Wireless kits, Cube cams, Car cams, adventure cams in various configurations & specifications. For the Enterprise, Corporate & Government segment, a range of high-end products and solutions including IP based cameras in upto 8MP resolution, PTZ (Pan, Tilt and Zoom) Cameras, verifocal cameras, high speed dome cameras, Thermal cameras, Vandel proof cameras, Number plate reader camera & solution, Biometric Access control solutions etc. Equipped with features such video analytics including line crossing detection, trespassing alerts, intrusion detection, area entrance & exit, face detection etc., these products and solutions are customizable to the end user's requirements.
As per the Brand, AHD (Analogue High Definition) solution is more popular among the Retail segment due to low price and its plug and play convenience, while the IP (Internet protocol) based solution is largely used by Corporate, Enterprise, Govt. and other large commercial establishments like Malls & public places like Airport, Railway stations etc.
The brand recently announced the launch of 'Eco Series' range of CCTV Solution. This entry level, low priced series of CCTV solution is targeted at the Retail segment comprising of Household and small commercial establishments. With the rollout of 'Eco Series', Videocon WallCam aims to make CCTV solutions affordable and accessible to the end users who, as per the brand, perceive CCTV solution to be an expensive and complicated solution.
"Security & Surveillance is need of the hour. The rise in malpractices, robbery, shoplifting & security concerns have increased need for surveillance systems more than ever. One of the key reasons for poor penetration of CCTV solution in India is people perception about the price.
The launch of our 'Eco series' is aimed to break the price perception that people have, and offer CCTV solution at most affordable and never before prices. Our entry price of the series for a complete CCTV solution comprising of 4 Camera and a DVR will be as low as Rs 4990/-, a small price to pay for a lifelong peace of mind .Through this CCTV solution we want to create awareness and make affordable video surveillance available to all.
With launch of such mass market products and solutions, our aim is to ensure market expansion and target to be among the top 3 brands by 2021. Mr Bali added.
---
© CopyRight Pressnote.in | A Avid Web Solutions Venture.