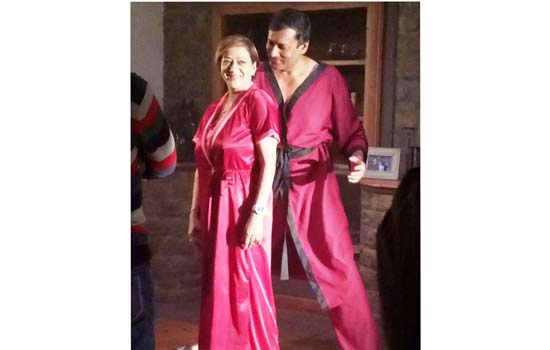 Mumbai: There is no easy shortcut to stardom, but for some, whether they came from stage, TV, or the first timer, comes that life-changing role. Here is one actor who has made an impact in television with various roles in different serials. Be it as 'Sabu' in Chacha Chaudhary, 'Raavan' in Brahma Vishnu Mahesh, 'Bheem' in Jai Hanuman, the six foot four Inch tall multifaceted actor, Rajesh Singh, will be seen on the silver screen as a hero.
Shivanand Entertainment and Dream World Film Productions upcoming Hindi feature film Sistersis gearing up to hit the marquee worldwide.It's directed by Nishant – Vikaas .TV star fame Rajesh Singh is playing the lead in this suspense thriller which has the feel of a mega Hollywood film. The film feature five beautiful girls like Dollaps Singh, Nandini Singh, Khushboo Khan, Mismi Vishwas and Saloni Pandey rubbing shoulders with him in this suspense drama. The shooting of the film is in progress in the exotic and picturesque locales of Nainital. The film will be released in Hindi, regional and other international languages too.
Speaking about the role in this film, Rajesh Singh says, "I play a cop in this thriller. I am IG Rajesh Ahuja who is a stern and a loyal police officer. Supriya Karnik plays the role of my wife and also plays the Judge in the film. Seasoned actor Aarya Babbar plays the role of my brother who is accused in a rape case. The film has lots of twists and turns and will surely make one sit at the edge of the seat. In short it is a complete entertainer which is shot in gloss and a big canvas just like a big-budgeted foreign film."
Rajesh Singh had earlier featured in films like Wajood, Hulchul, Zamanat, Aage Se Rightamongst others. Sister is his first film as the lead hero. He is also seen in commercials too. One serial titledNaamkaran produced by Mahesh Bhatt has also fetched him laurels. These days he is being seen on Colors channel in the serial Ishq Mein Marjawan.
Director Nishant – Vikaas duo states, "We intend to take this film across various Indian and International film festivals prior to its release. The film has 6 songs of which two are English numbers. Even today man and woman are treated differently. Today, in modern society if a girl wears modern dresses, wears shorts, smokes and then people look at her inversely. We should not consider that the daughter of our nation is not at par. This is also what we have highlighted in this film too."
---
© CopyRight Pressnote.in | A Avid Web Solutions Venture.