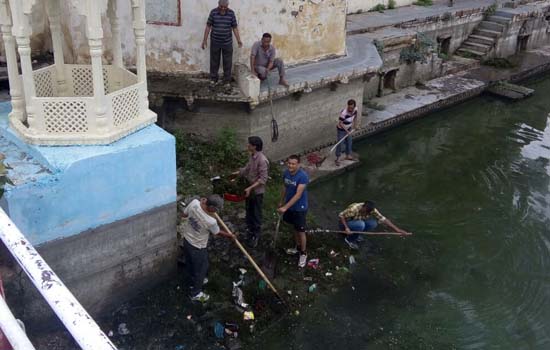 Udaipur: (Anil Mehta) Lake volunteers of Udaipur met on Sunday to remove the floating waste and aquatic weeds from the lakes. The voluntary action was jointly organised by Jheel Mitra Sansthan, Jheel Sanrakshan Samiti and Gandhi Manav Kalyan Samiti.
On this occasion, lake lovers expressed serious concerns about eco system health of the lakes. Dr. Anil Mehta , Tej Shankar Paliwal and Nand Kishore Sharma stated that there is severe soil erosion in the catchment of the lakes.
The earthy colour of river Sisarma entering into lake pichhola indicates degraded condition of the catchment of the lakes; and substantiate the fact that nothing substantial has been done under catchment treatment measures of NLCP lake conservation project .
They suggested that there should be systems of silt observation post (SOP)and discharge measurement mechanism to observe the quantum of water and silt entering into the lakes. Such systems are necessary to understand the hydrological parameters of the lakes , necessary to design and implement the conservation measures. The lake volunteers expressed the need of regular analysis of chemical and biological composition of silt .
The agriculture runoff contains heavy doses of dangerous pesticides and herbicides and pose serious threat to human life. It is unfortunate that in the catchment of lakes, there is uncontrolled application of pesticides, insecticides and herbicides. These chemical compounds are washed through rain water and flow to the lakes. The situation is further worsening as , under the pressure of land mafia, the submergence area of lakes are being reduced .
Lake lovers informed that this is happening throughout the Rajasthan resulting in destruction of ecologically important shore line area of lakes. The volunteers demanded that the Government should demarcate all lakes of Rajasthan, including Udaisagar on MWL criteria; and should not surrender to any ill demand of reducing the lake original boundaries.
---
© CopyRight Pressnote.in | A Avid Web Solutions Venture.