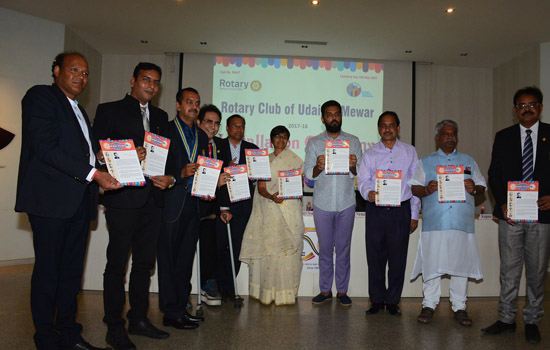 Udaipur: Organized posting ceremony of Rotary Club Mewar Lakshyaraj Singh Mewar said that mewsar state was always ahead in women litracey .our ancestors has opened the girls school in, in the year 1864 the frist one in Mewsar , where we talk about the daughter's beloved children. Women are not ahead of men.
He was speaking as the chief guest at the posting ceremony of Rotary Club Mewar held at Chamber Bhawan, UCC, He said that women possess all the powers in life. If we do not understand them equally than we cannot march ahead.. He Mewar has always been a leader in the country regarding the girl child.The chief speaker of the ceremony, Nilima Khetan, said that we have assumed the ideology of the market in every area of our life. It is a different matter whether the solution of the market is resolved or not. Hindustan Zinc-Vedanta spends 300 crores rupees annually in the field of social service.
Newly elected President, Dr. Arvinder Singh, Secretary Abhay Malara, Patron Hansraj Chaudhary, Assistant Prantpal Kapoor, C. Jain, Anil Mehta, President elected Manaria, Mukesh Gurani, Sandeep Singhwada, MP Chhabda , Manish Ganna, Rahul Harn, Suresh Jain, Himanshu Gupta, Prashant Shuhalka, Pankaj Bhanavat, Chetan Prakash Jain, Yayesh Pagaria, Saurabh Paliwal, Bansantgiri i Gowsami ,Ashish Hrkawat, Dinmay Choudhury, Manish Kalika, Mukesh Chaudhary, Dr. Lokesh Jain, Hitesh Kothari, Pawn Kotari, Dr. Arun Bapana, Farooq Quraishi were administered the oath of office and secrecy by shri Ex prantpal Nirmal singhvi On this occasion, Singhvi said that Rotary commits community service while trying to change the lives of people.
At the function, Club President Dr. Arvinder Singh said that when the expectations increase than , tension is increased. Therefore, always keep the level of hope low. If we keep our attention centered on our own dreams, then it will be known that ours also have a periphery inside which is the desire of the skies.The function was also addressed by patron Hansraj Chaudhary, assistant Principal Kapoor C.Jain. On this occasion, on the request of Bulletin editor Mukesh Chaudhary bulletin released jointly by the guest present on stage.
---
© CopyRight Pressnote.in | A Avid Web Solutions Venture.