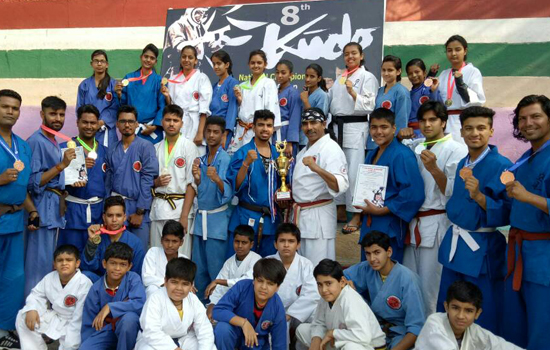 Udaipur: In the 8th Kudo National Seminar held in Khandala, Maharashtra from 9th to 11th May, Rajasthan bagged 21 gold medals, 17 silver and 23 bronze medals including 62 medals and won runners-up in the competition.
Kudo Rajasthan Chairman and Chief Contributor Renshi Rajkumar Menaria said that more than 800 boys and girls from 22 states of the country participated in this competition. In this competition, the team from Udaipur headquarter maintained its dominance in Rajasthan by winning a total of 18 medals with 9 gold, 4 silver and 5 bronze medals. In addition, Bikaner won 14, Alwar won 13, Jodhpur won 8, Dholpur and Badmer won 3-3, and Rajasamand won 1 medal.
Menaria said that the most notable thing in this competition was six gold medal girls out of 9 gold won by Udaipur team, in which Rajanandini Menaria and Rituika were exhibiting expertise.
Chief guest of the closing ceremony and Chairman of the Kudo Festure of India and Bollywood star Akshay Kumar, came forward to challenge the women to take over their own security command. They said that there should be a martial artist and sholger in the house because of martial arts Sanskars help children to make a good person. He told that Kudo Federation and I myself have been constantly trying to make this Khalil a part of the Olympics and we hope to do this soon.
gold medal winners from udaipur are- Jagpal Singh Rathod, Manish Panwar, Maney Joshi, Rituika Sharma, Pratibha Rathore, Rajnandini Menaria, Lakshya Panwar, Mokshita Panwar, and Bhavana Sahu Silver Medal bagged by udaipurites are Vijata-Bharat Kumar Nagda, Aryansingh Rajawat, Ronak Surana, and Khushbo Dangi in addition of that Satyanarayana Menaria, Sanjay Mehta, Bhapendra Bandhu, Paramvir Singh and Garvita Agarwal won bronze medals.
Menaria said that the team from India for the Senior Kudo World Championship to be held in Japan in November this year also has been selected.
---
© CopyRight Pressnote.in | A Avid Web Solutions Venture.