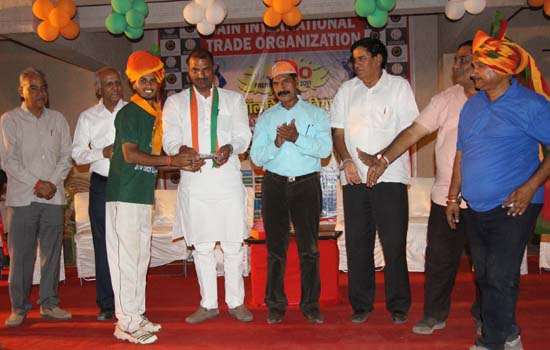 Udaipur: The winner gets 51 thousand cash with the trophy, the team owner gave one thousand to each player, the victory of the young wing
Udaipur, MP CP Joshi said that in the shortest possible time JITO has earned its name. I have joined the live events of Mumbai, Gujarat. Today, it is very happy to see JPL here on the lines of IPL.
They were addressing the function organized on the Field Club ground on Sunday at the conclusion of the Premier League 2017. The special guest was Mayor Chandrasingh Kothari and the UIT Chairman Ravindra Shrimali. Function was Headed by CA OP Chaplot
Rajkumar Fattawat, Chief Secretary, JITO Udaipur chapter said that trophy for winning team Parsvnath Club and Rs. 51 thousand, trophy for runner-up Kanthunath Club and Rs. 31 thousand cash were provided.
Udaipur Chapter Chief Secretary Rajkumar Fatehav announced the Youth Wing after the JITO Chapters and the Woman Wing. It included Chirag Maru, Manav Bhandari, Sanjay Jain, Bhavesh Jain, Nitin Jain, Chirag Kothari, Bhavesh Singhvi, Parth Talasra, Deepak Singhvi and Shubham Singhvi.
Lata Akhtar, Principal Secretary, Zia Udaipur, announced the adoption of the victorious Parsvnath Club captain Ronak Jain by JITO. Udaipur Chapter will bear all the expenses of Raunaq's education, sports, etc. whatever area he would like to visit.
---
© CopyRight Pressnote.in | A Avid Web Solutions Venture.