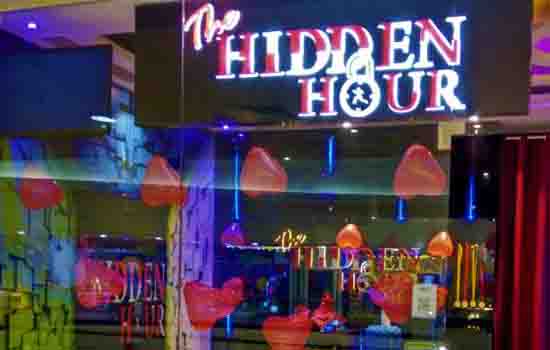 The hidden hour has established itself in a very short period in Gurugram. It's opened in metropolis mall a short while ago.
These days people are crazy for games developed specially for smart phones.
Wherever you turn your head, you can see people playing games on mobiles ,self absorbed and completely indulged in virtual world. The hidden hour has added thrill to people's life by giving brain challenge to solve puzzles in limited time.
This idea is taken from western world and it's quite popular in USA , Japan , Canada and China etc.
An escape room is a physical adventure game in which players solve a series of puzzles using clues, hints and strategy to complete the objectives at hand. Players are given a set time limit to unveil the secret plot which is hidden within the rooms.
The Hidden Hour has bought this concept to the metro city, Gurugram. It's getting popular day by day among the people of Gurugram & Delhi.The game developers have designed the game and paid attention to every single detail.
As soon as you enter inside, you start feeling like a real cop or a spy to solve the puzzle of Hijacked NCR metro Bomb difusal. It looks like a real situation in which you are trapped and you surely want to come out as a real hero after winning the situation.
I visited this place in January and find it most interesting. First you have to decide your team and plan accordingly. Clues are given to you by the crew and like a fast action movie you start collecting clues. Tunnels, laser lights , tickling sound of clock makes the game really adventurous. Here minds work faster and with each passing second your excitement doubles. I think the most important thing was to develop unity among players. In MNCs or real world, we have to deal with problems in groups.
Real Escape games build up team spirit which helps to solve the puzzle. I think it can help our children to come out of their shells and enhance their physical abilities.
There are two different games, a treasure hunt and a bomb difusal game. Both are designed with perfection. These games are analytical and compelled you to take challenge and create brainstorm in 60 minutes.
This place is ideal for birthday parties and corporate team building activities. Even friend meet ups and family outings can be planned on weekends to have a fun filled holiday. This is race against time, logical and well planned. Next time whenever you get a chance to visit Gurugram, do visit this place. I bet you will never come across any real situation in a game where you can't take breath till the end.
---
© CopyRight Pressnote.in | A Avid Web Solutions Venture.