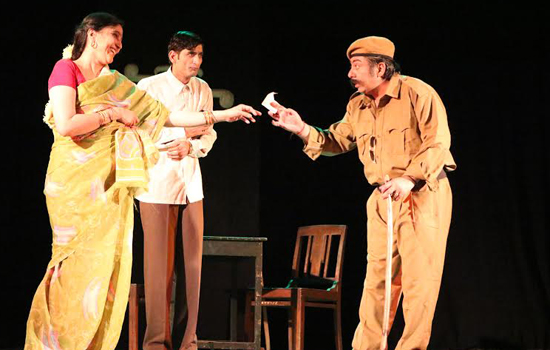 Vilas Janve -
Chandigarh Sangeet Natak Akademy Chandigarh ,Bhartiiya Lok Kala Mandal and The Performers, Udaipur jointly organized three Day Drama Festival at Bhartiya Lok Kala Mandal auditorium from 14 to 16 April,2017
. The inaugural play Chanakya was staged by 'Sativk Art Society', Chandigarh jointly directed by Amit Sanoriya and Sarvar Ali. Full of patriotism, this play exhibited committed concern of Vishnugupt Chanakya to bind entire Nation as 'One Bharat' at time of invasion of Alexander.
The strong script of Mihir Bhuta claimed clapping in many scenes. Few actors even made themselves bald to suit the need of characters. That shows their dedication and commitment towards theatre.
The efforts of young team should be appreciated to handle such a difficult classic play, but the direction at all level, i.e. speech, lights, set design, costumes and props required more attention. Most of the actors had speech problems as they used to swallow last one or two words of the dialogue. The pure Hindi words were real challenge to few actors. Mere remembering dialogue does not impress. Timely punch with required voice modulation is mandatory for such play. Directors should have worked on research and rehearsals. Shivam Dhall as Chanakya put much efforts to live his role and leave impact.
Other artistes Aman Gill,Dr. Rajan,Jyoti Bansal,Kanwar Pal Singh,Rahul Kundia,Raman Deep,Suman Kumar,Raja Subramahniyam ,Durgesh Tatwal, Sarvar Aliand Gursheen Kaur also tried to impress audience.
Prashant Dalavi's play "Chahul" was staged as "Aahat" on Saturday evening by 'Khela Natya Sanshthan', Chandigarh. It was a brilliant performance depicting intimate relationship between young husband and wife who are inter cast married and living in metro city. In the blind race for achieving all the physical amenities they do not know when they become part of a deal of higher people who satisfy their lust through generating unnecessary needs in them. The play defines and redefines meaning of true love, need, agony, faith, adjustments, self confidence promotion, agony, guilt and culture through strong meaningful dialogues. Both the actors Gorki Singh and Namrata
Sharma were equally impressive to portray characters of Sameer and Madhavi. They engrossed the audience for entire play of about 100 minutes with different shades of their acting. Namrata Sharma as director displayed her tremendous talent. Many senior, experienced and seasoned Light designers work with young directors and make their play a brilliant performance. Shehzor Ali of Jaipur stands for it. His thoughtful designing helped play effectively. Music of play was very appropriate and helped to enhance effect. The back stage team of Bhushan, Nisha and Aryan handled their jobs with full care.
'Sharma Dharohar Institute of Performing Arts and Cultural Heritage,'YamunaNagar, Haryana presented concluding and most entertaining play "Bobby Breaker" on Sunday Night.
Adapted from Marathi one act play, this hilarious and educating play was creation of Geeta Agrawal who not only directed but shared responsibility of portraying three different characters. The protagonist Vishwas Joshi stammers.
He is called Bobby Breaker by his friends. He keeps himself busy in playing cross words to avoid any inconveniences.
He has one sided love for Miss Chaudhary who also loves playing crosswords. Because of his stammering he is not able to propose himself. His friend sutradhar helps him sending to Speech Therapist who advises him to talk three new persons daily to overcome his psychological problem.
He encounters many funny situations while trying to talk to strangers. Every situation invokes laughter.
While combating with such embarrassing scenario, Miss Chaudhary gives him support. Her friend Sudha also motivates him and finally his confidence wins the race. The beauty of play was its simplicity and creativity. Gaurav Prakash live his character with full involvement, He reminds me of Amol Palekar. As sutradhar Chinmay and as Miss Chaudhary Omkar Saini did their best.
Neeraj and Geenta Agrawal handled three roles each but most commendable job was done by Rajendra Sharma who very efficiently portrayed ten different roles like police, parent, shayar, salesman, waiter, boss, singer, paitent, anna swami etc. Kulbhushan as child actor impressed. Music by Vikramjeet Bhatt, Lights by Kulbhushan Chabra did their jobs fairly well to make the play a delightful show. Bhartiya Lok Kala Mandal has started attracting drama lovers of the Smart City as it centrally located place.
Congratulations to all the three institutions who have contributed towards developing theatrical activities. This would also encourage the young theatre artistes to come with new productions.
---
© CopyRight Pressnote.in | A Avid Web Solutions Venture.