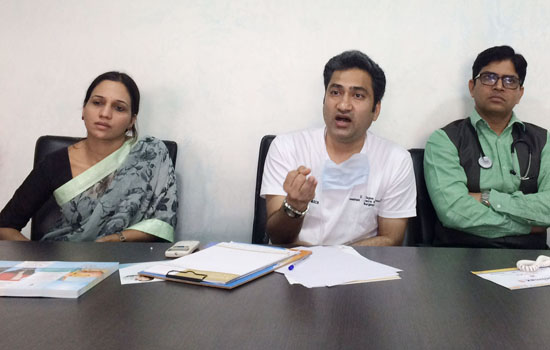 Udaipur: Dr Sapan Jain, Bariatric (Weight Loss) and Advanced Laparoscopic Surgeon at Shantiraj Hospital Pvt Ltd, Sector-11 Hiran Magri, performed three consecutive Bariatric Surgery on three Morbidly Obese women they were weighing 103, 127 & 136 kgs respectively. Along with Obesity all three patients were suffering from various diseases .Dr Sapan Jain explained that Bariatric Surgery is performed via Laparoscopy that is a Key Hole Surgery, after surgery patient are discharged after two - three days and No Bed rest is required for the patient and they can resume normal activities in 3-4 days time, Patient looses around 40-80 kgs of excess weight in 6-8 months and patient get remission of Type II Diabetes, Hypertension, Sleep Apnea.Dr Jain performed around 100 Surgical & Non Surgical procedure. Intragastric Balloon( With Out Operation)has a very good role for shedding extra kilos.Currently Dr Sapan Jain is only Bariatric Surgeon in Udaipur who is doing weight loss surgeries. You can contact him on 9893074468 for Obesity and it's related problems.
Shantiraj Hospital is very well equipped to investigate and treat Obesity ailments under supervision of Bariatric Surgeon Dr Sapan Jain.
---
© CopyRight Pressnote.in | A Avid Web Solutions Venture.