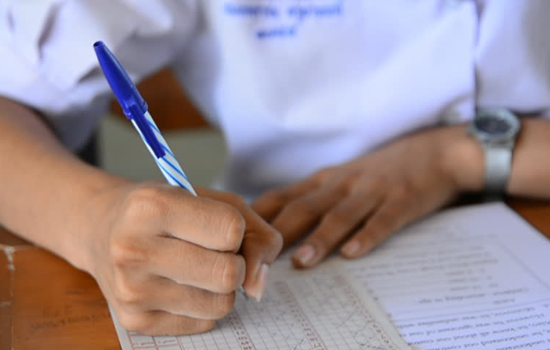 There is a certain preconceived notion of examination that mounts undue pressure and anxiety amongst students as well as parents making it ever dreadful. Children getting worried and anxious about exams is natural to a certain extent as it actually helps in preparingthemselves well and improving their overall performance. However excessive anxiety can throw students into turmoil, completely upsetting and disrupting their routinelife. The undue pressure of examinations makes it even more difficult for students to concentrate orcope up with their studies.
What is the root cause of examination phobia and anxiety? Firstly, it is the misunderstood notion of examinations and secondly the lack of planning ahead, last minute preparation, lofty expectations of parents and poor study methods that yieldsunnecessary anxiety and mental stress. Confronting the root cause is the way out of this perennial examination stress phenomenon prevalent all over. It is therefore advisable that students and parents implement some of the tips and guidelines which will help them take exams with positive approach and confidence. I would suggest that every student must take good care of herself/himself. Remember that life is precious as God has created every person fearfully and lovingly. Students need to put in their best potentialsand they will definitely be amazed by their results. It is beautifully said, "Striving for success without hard work is like trying to harvest where you haven't planted." ~ David Bly
Keep Healthy:Sufficient rest and nourishing diet is must during these days. This helps in remaining agile and energetic and improves grasping power. In order to enhance one's grasping power one needs healthy mind and healthy mind needs healthy body. Therefore, it is very important that students look after their health during this time of exams. While eating nutritious food and getting adequate sleep will keep them healthy and active, dedicating sometime of daily exercise will help them reduce exam stress to a great extent. Health is important and it should not be neglected.
Build a Positive Attitude: Negative thoughts about exams and its consequences often results in stress and fear. Every student needs to remain positive as attitude does matter in achieving any goal. In-fact positivity increases the concentration level and helps in reaping good results. Positive approach in exams will definitely help students perform better.
Use Time Effectively: "Time is precious; do not while it away." All that students need to do is to makea realistic plan of studies keeping in mind their weak subject that require little more time than the others and ensuring sufficient time for revisions before the exams. Intervals of short breaks will help in retaining knowledge and remaining active, fresh and energetic at all times.
Communication: I would strongly urge students to speak out their concerns and clear their doubts and get adequate feedback from teachers. This will not leave them confused and bewildered. It will help in gaining confidence on the subject matter.
Parental Role During Exams:
It is obvious that during the examinations along with students, parents also get distressed and troubled. However, they cannot afford to be paranoid and troubled because they have an important role to play to get their children well prepared for the exams. First and foremost,parents should never pressurize their children unnecessarily during exams rather they needto give them time and provide a supportive, encouraging and motivating environment to study. On their part they need to ensure that children have sufficient sleep, balanced food and are relaxed to study well. It is high time that parents do realize things beyond mere examination and take up a role of boosting children to be prepared for the future. Do not ever compare or nag children because every child is unique and special. God has a great plan for every child, plan to prosper and not to harm them. Therefore, trust in God always and boost the positive energy among children.
Finally, it is important to beat the examination stressin order to prepare well with renewed energies.Do not get bogged down, paranoid and worried due to the exams rather keep cool and calm as you prepare yourself for them. "Do not be anxious about anything, but in everything, by prayer and petition, with thanksgiving, present your requests to God."I urge all our dear students to dedicate time forprayer and silent time. It will give direction to your life. Remember what Thomas Edison has said, "If we did all the things we were capable of doing, we would literally astound ourselves."
Wishing all our students good health and success in the forth coming examinations!
Dr. A. F. Pinto, Chairman
Ryan International Group of Institutions
---
© CopyRight Pressnote.in | A Avid Web Solutions Venture.