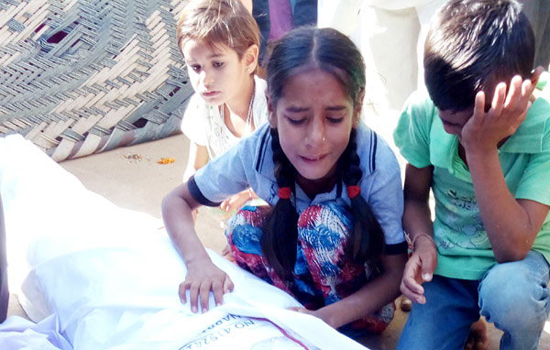 Jodhpur: Get up Dad Talk to us. Why dont you get up. Why are you still asleep, were the words spoken by Gulab kawnar, the beloved daughter of Narpat singh. whose body was lying in the courtyard of a house in Longsar village in Rajmathai situated 4 km away from Pokhran tahsil in Jodhpur.
Seeing the lovely daughter along with other children, trying to raise her father, people of the village and from remote standing around couldnt stop themselves and drowned in tears. All wept bitterly.
Nobody knew how to calm the young ones. While all the family members were crying aloud with a feeling of proud for the sacrifice made by their martyred son for the country.
Body of the martyred soldier wrapped in tricolor was lying upsurge for the final seeing before cremation. He died in the morning of 19th nov. when 15 Kumau regiment batalion were marching to Pengiri area of Tinsukia in Assam for duty. According to Subedar Omprakash singh suddenly while marching millitants attacked on the army contingent and made ID blasts.Trucks stopped. Indiscriminate firing started from both the sides. Narpat singh the martyred fought bravely and as a result forced millitants to flee. Taking advantage of dense forest they fled away. Narpat singh was hit by a bullet in shoulder. He was provided first aid and was rushed to hospital by plane but due to heavy blood loss could not survive and left Us on the way.
Last rituals were preformed by his son Phool singh. Former Indian army officials offered pushpchakra. Army saluted with the guard of honour.
MLA Chotusingh Bhati from Jaisalmer, MLA Shaitansingh Rathore from Pokhran, Former lawmaker Saleh mohammed and Shambhu singh Khetasar chairman of the state seed corporation paid homage.
---
© CopyRight Pressnote.in | A Avid Web Solutions Venture.