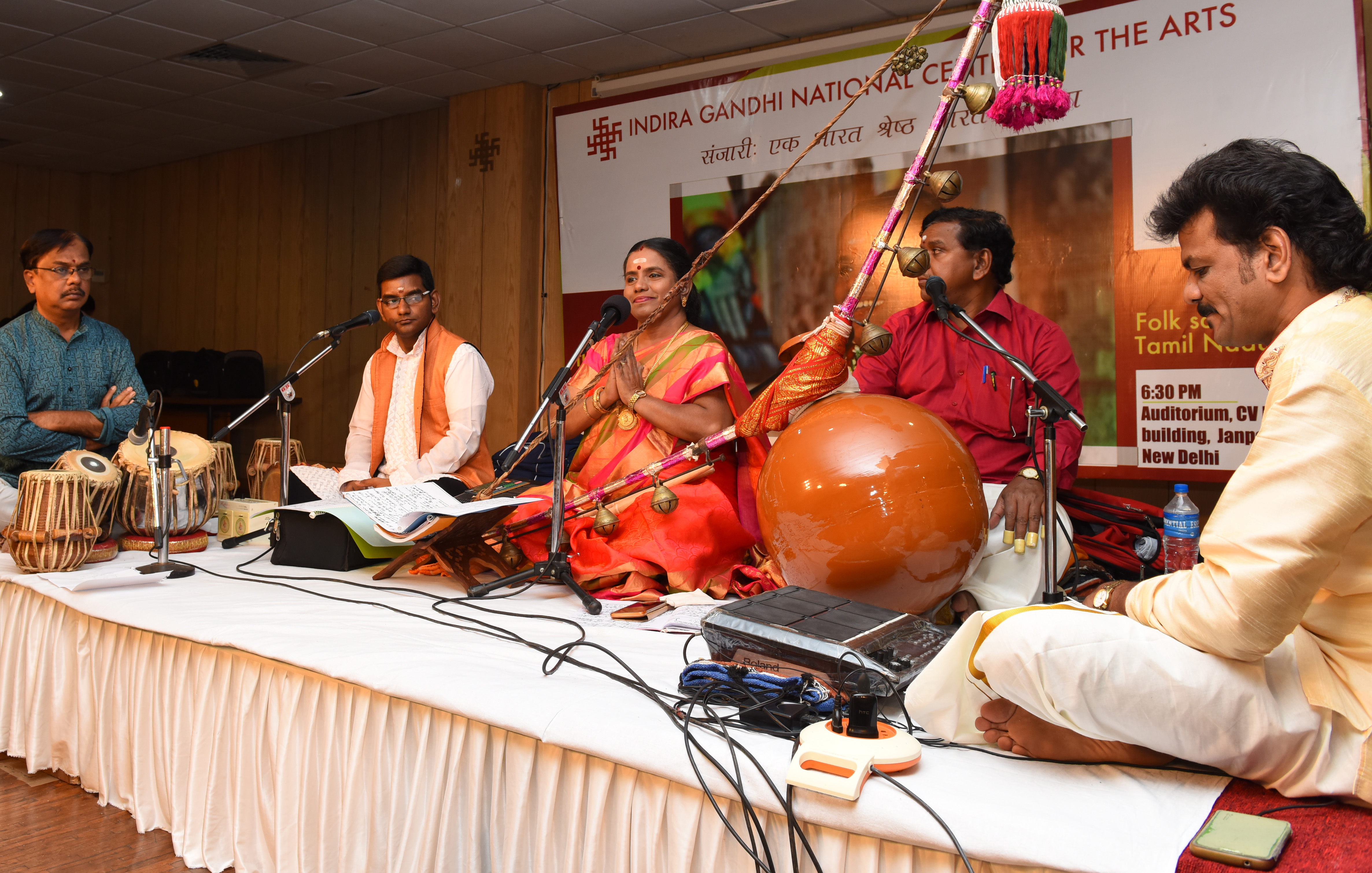 Delhi.Indira Gandhi National Centre for Arts, New Delhi organized Monthly Folk Music Concert "SANJARI" on 21and 22April under the series "EK BHARAT SHRESHTH BHARAT" .Sanjari had performance of 'Villupaattu' oldest form of traditional story telling from Tamil Nadu on Saturday evening. 'VILLUPAATTU' is regarded as the ancient most folk art of Southern Tamil Nadu. It is the oldest form among the Muthamizh Kalaigal( combination of Literature, Music and Drama)The yazh that belonged to Sangam Period was denoted as 'Adiyazh'(Ancient Veena). That was referred as 'Villu'. The poets who belonged to the Sangam Period played the yazh and had the talent of singing and speaking. History says that Villupaattu was born in the hands of a Pandya King who had gone for hunting. Realizing his mistakes of killing so many animals, he wanted to wash away the sin by singing the Almighty. The bow was turned into an instrument and the arrow was used to play upon the thread of the bow with a pot being tied to the bow for balance.
'Kalaichudarmani' Mrs Bharthi Thirumagan, daughter and disciple of the stalwart Villupaattu artist Kalai Mahamani Kavingar Subbu Arumugam . 91 years old Kavingar Subbu Arumugam has numerous awards to his credit including 'Sangeet Natak Akademy Award'. Scholar and artist Bharthi has given a number of performances with her father in India and abroad and in Delhi she brought her son and disciple T.Kalaimagan, a young talented scholar and artist. She played Villupaattu (a peculiar folk instrument) while singing thematic songs. She was accompanied by her husband Dr. S. Thirumagan on Paattu (Played as Ghatam) and vocal, B.V. Ganesh Rao on Tabla, Robert Wesley on Pad while her son T. Kalaimagan not only gave her vocal support but also rendered few folk songs. Bharthi included songs of Mahakavi Subramanya Bharathiyar . 'Aamaa Podunga' which means 'Say Yes for Everything'.The group also sang song on the dreams of Mahakavi Subramanya Bharathiyar .Her songs were in Tamil ,but audience did not find difficulty in understanding and enjoying the concert. She was too expressive and had mesmerized audience with her quick repo with audience. Besides folk songs namely ; Thantha Natom ,Killi Kanni and Kawadi Chindu, she sang songs mentioning names of Mahatma Gandhi and Dr. APJ Abdul Kalam. Her group sang Vande Mataram and even Meera Bhajan to allure audience.
| National Patron of Sanskar Bharti and stalwart cultural personality of India ,Baba Yogendra ji honored Bharthi and her group.
Sunday was dedicated to choicest Kashmiri folk songs rendered by Shri Dhananjay Kaul famous vocalist who has equal command on classical, light and folk music. Dhananjay learnt classical vocal from his father Guru Shanti Chaitanya Kaul and Vidushi Guru Nirmala Arun. He mastered Shyam Chaurasia Gharana and Patiyala Grarana. With all his knowledge and experience he rendered Kashmiri Folk songs of Mazhur Sahab ' Roz Roz Bozmenzaar madnau'. He also sang folk song composed by Mehmood Ghami ' Mera Faqeer Aftaab hai'
Kashmiri Sufi 'Chakari' written by Ahad Zargar and composed by Ali Mohammed Shekh was sung on a very odd beat of 'Three and Half' which was accompanied by string instrument 'Rabab.' Ancient Rishi Tradition was represented by "Wak" of Shivaite Laleshwari. Recipient of Senior Fellowship of Ministry of Culture, Dhanajay disclosed that Kashmiri Folk Music has rich heritage as 32 Ragas of Hindustani Classical Music are found in the Folk songs of Kashmir. He concluded his concert with the Nazm of Deena Nath Naadim "Bagyaavn Az". This most sensitive Nazm was written in 1947. He was accompanied on Tabla by Rasheed Zafar, Sarangi by Saeeddur Rehman and Rabab by Abdul Hameed Butt. Member Secretary of IGNCA,Dr. Sachhitanand Joshi honored artistes.
'Sanjari' the monthly concert of folk songs gives opportunity to enjoy and experience folk melodies of two states of India. Next Sanjari will include Folk Songs of Uttarakhand by Padmshree Basanti Bisht on 19 May and Folk Songs of Karnataka by Jogila Siddaraju on 20 May,2018. IGNCA, Delhi not only video documents the concerts but also show cases photos on Face Book and website.
यह खबर निम्न श्रेणियों पर भी है:
Headlines today News
,
Litrature News