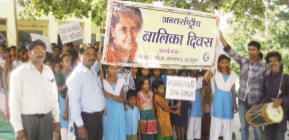 In the last few years the problem regarding exploitation of Child Rights has been increased. Child protection issues are a huge challenge in India, especially in rural areas. More than 80 million children a year - 41% of the child population leave school without completing eight years of education. In addition 43% of girls are married before they are 18. In the rural area of Rajasthan state where the problems like Child Labour, Child marriage, Low literacy level, Malnutrition are very common, Child Protection is itself a bigger issue to be catered. Child below 18 years of age contributes approx 48 percent in the total population of Rajasthan out of which many are affected by the issues like neglect, violence, various forms of abuse and exploitation. Udaipur is one of the tribal dominated districts in the Southern part of Rajasthan, where tribal habitants are still away from basic amenities and infrastructural services. Lack of awareness coupled with remote geographical access has boosted the vulnerability of children in this particular area. As which is also near the border of Gujarat, due to lack of sustainable source of income children in this area are prone to work as child labourers in their own villages or in the nearby town/urban area which in turn also increasing the cases of children migration every year. However, various laws, policies and schemes have been formulated by Government for ensuring the rights of children and also improving their situation. Integrated Child Protection Scheme (ICPS) is a comprehensive scheme introduced in 2009 by the Government of India to bring several existing child protection programs under one umbrella, with improved norms. Under ICPS various child protection structures have been developed at different levels (i.e.
District to panchayat level). It envisages carving out a broad and comprehensive framework for child protection in the XI plan and setting the foundation for creating and strengthening a robust protective environment for children. Child protection concept incorporates prevention, protection and rehabilitation aspects. Thus, the Millennium Development Goals (MDGs) cannot be achieved unless child protection is an integral part of programmes, strategies and plans for their achievement. Failure to protect children from issues such as violence in schools, child labour, harmful traditional practices, child marriage, child abuse, the absence of parental care and commercial sexual exploitation among others, means failure in fulfilling both the Constitutional and International commitments towards children. Keeping all the above mention situation in mind a Non Governmental Organisation named, Gayatri Seva Sansthan (GSS), Udaipur which intervenes in tribal dominated area of Udaipur district and developed various Gram Panchayat as Child Friendly. Presently, GSS is working for Protection of Child Rights though their innovative Child Protection program and created various villages and panchayat as Model. Seeing the achievements and positive changes in tribal villages which have created everlasting examples of Child Friendly Panchayat, GSS works with collaboration with UNICEF and working in 210 Gram
Panchayat (Sarada, Girwa, Jhadol, Kherwara and Kotda) in Ensuring Protective and Learning Environment for children. Major Highlights: w 10 Model Gram Panchayat (Nimboda, Shyampura Jhadol, Rathora, Balua, Nathara, Thana, Intali, Gataud, Kuradiya & Pal Sarada) of Sarada block organised Vishesh Bal Gram Sabha and declared their GP as Child Labour Free. wOut of 18114 Out of School Children, 7452 Out of School Children's (OOSC) as per updated Child Tracking System (CTS) has been enrolled in school with the help of School Management Committee (SMC), Panchayat Level Child Protection Committee (PLCPC) & Volunteers of GSS and 5988 children's are of other category (Over age, Under age, Migrated, Death and Not existing). w 1712 children/families has been identified and linked under Social Security Schemes. w500 Child Help line Display Board which is been launched by Director of DCR, Jaipur has been plugged in Schools. An Example: Nimboda as Child Friendly Gram Panchayat: Out of 10 Gram Panchayat mention above here is one example of Gram Panchayat named Nimboda at Sarada block of Udaipur district. Situation over here prevail the same condition as mention above. GSS intervenes here as has shown the positive colors of change. In the year 2012 Gayatri Seva
Sansthan introduced an intervention at this Gram Panchayat through a project Child Protection Program supported by UNICEF. Lack of knowledge and awareness regarding the importance of education and harms of child labor among the community members was responsible for the above situation. They were sending their children to work as laborer instead of school. Efforts of GSS by facilitation of VCPC, PLCPC, SMC and PRI members held with the result of enrollment of Out of School Children, and 100% children has been enrolled by PLCPC and SMC members. Many families/children's were being identified by Committee members who don't have access of Social Security Schemes (SSS). They were also linked with many social security schemes by the Committee members. Some of the family members were also linked with livelihood activities so that they can support their families. Due to the joint efforts of GSS and community members a good coordination among all the members of village committees as SMC, PRI's and VCPC was developed. As a victory for the above efforts in the initiation of the academic year 2012 (July) all the children (whether dropout or never enrolled) of Nimboda Gram Panchayat were enrolled in the school. After an achievement of hundred percent enrollments in the school; VCPC developed a Child Tracking System. The aim was to ensure the children retention in the schools and also that no child should be engage in the labor activities as earlier. The villagers were now well aware about their roles and responsibilities. They themselves started checking the attendance of the children to trace out the situation. Panchayat painted quotes "Ek bhi bachha Balsharamik Batao, Panchayat se enam pao".
यह खबर निम्न श्रेणियों पर भी है:
kIDES