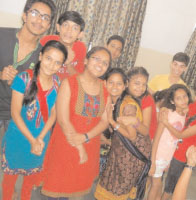 As the summer vacation starts, Lake
city offers many activities forthe children.
Popular Cultural, Sports, Social and
Educational institutions even the media
also organize a number of events for
Children.AfterretirementfromWestZone
CulturalCentre,Udaipur,thiswas thefirst
summer vacation which I could utilize by
holding a thematic theater workshop for
children. With the help of Central Public
School, Udaipur and under the banner of
Martand Foundation, I started this month
longtheaterworkshopfor children,16children
of the age 8years to 16 years are
taking keen interest in all the activities
designed for this production oriented
workshop.
The workshop aims to hone creative
pursuits in children. Share basic elements
of theater. Encourage children to
write script for short plays, prepare and
present performance through team work.
Emphasis isbeinggivenonenhancement
ofConcentration,Observation,Creativity,
Discipline and Self Confidence amongst
participating Children.
I believe that theater is the only performing
art form which has power to
change thoughts and educate people
while providing healthy entertainment.
Many social issues are being discussed
with these young participants. During the
theatricalexercises,Childrenarenotonly
enhancingtheir skillsbutalsoencouraged
by infusing positive thinking.
Experienced professionals are
interacting and sharing their knowledge
in the field of voice modulation,
mime and movements, Yoga, poetry,
script writing, back stage
works(make up, costume, masks,
stage crafts, sound effects),Music
and Dance. Children are preparing
two short plays and two mimes. All
the children are involved in one or
another thing. They will be presentingtheirtalenton15thJuneatCentral
Public School.