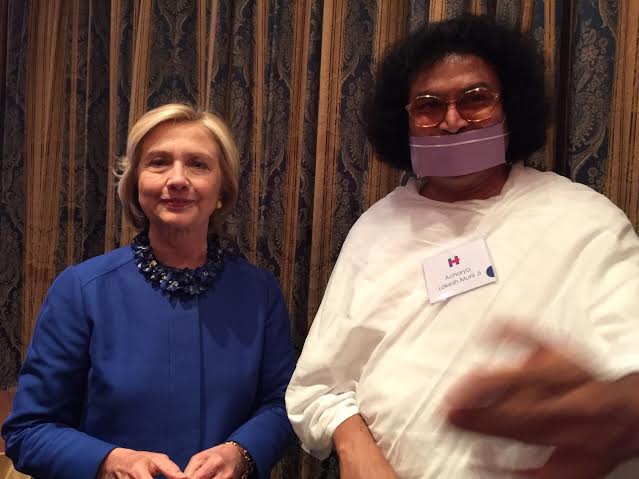 Mrs. Hillary Clinton, strong candidate of United States of America Presidential election said in New York said that America and India should together fight against violence, terrorism and poverty. Presently India is the emerging economy of world. In future India will play a larger role on international platform. Hillary Clinton took blessings from Indian Spiritual leader Acharya Dr. Lokesh Muni for the upcoming USA Presidential elections. She was addressing the delegation which met her in the leadership of Acharya Dr. Lokesh Muni on 10th foundation year of Ahimsa Vishwa Bharti. International coordinator of Ahimsa Vishwa Bharti Mr Karamjit Singh Dhaliwal, Congressman Joe Crowley, Congresswoman Gracemeng & Jasbir Singh were part of the delegation.
Mrs. Clinton said that violence and terrorism cannot solve any problem. Violence gives rise to counter violence. Problems can be solved through Dialogues and discussions. Appreciating the 'Peace Education' program of Acharya Lokesh she said that religious leaders can play a vital role in making the world a better place to live in.
Acharya Dr. Lokesh Muni blessing Hillary Clinton for achieving victory in upcoming USA Presidential elections said that he was invited to USA for the first time by Ex-President of USA Mr. Bill Clinton, it is an amazing coincident. On his invitation Acharya Lokesh during his first visit to USA presented the 'Peace Education' program at UNO. We are now inviting Mrs. Clinton to India for participation in 10th Anniversary celebration of Ahimsa Vishwa Bharti. Acharya Lokesh said that 21st century will be of Spirituality. Emphasising the importance of joining religion with spirituality and science he said that to make this world better religion should serve the purpose of social welfare and it should help in removing social evils. Acharya Lokesh discussing Jan Dhan Yojna (People Money Scheme), Suraksha Bima Yojna (Insurance scheme) and Swachhata Abhiyan (Cleanliness Drive) launched by present Indian Government for social change and social development said that peace is necessary for development. Peace and prosperity are deeply linked. He emphasised introducing 'Peace Education' as part of school education.
Acharya Lokesh gave information Mrs. Clinton about the JAINA Convention 2015 to be held in Atlanta from 2 to 5 July. In the Convention besides representatives from 69 Jain Centres of North America, more than 5000 Jain representatives from Kanada, America, Britain and India will also participate. There is more than 1.5 lac Jain population in USA.