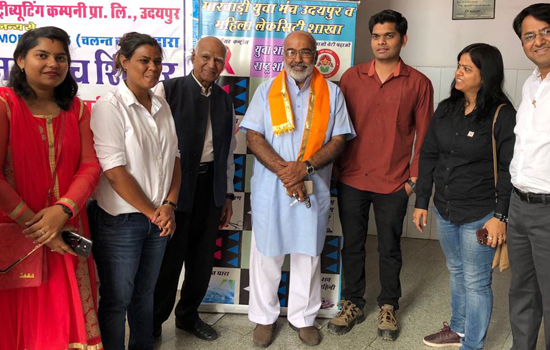 A huge free cancer screening test camp was organized on behalf of Marwari Yuva Forum Udaipur, Women's LackCity Branch, Golacha Polyclinic a venture Associated Sopestone Distributor Company.
In this camp, free diagnosis of cancer of 138 patients was conducted. under the supervision of Chairperson of Women LacCity Branch, Dr. Priyanka Jain, Vice President Rajshree Verma, Secretary Jaya Kachru, Marwari Yuva Forum, camp successfully completed
Mayor Shri Chandrasinh Kothari, BJP District President Mr. Dinesh Bhatt, Retired IG Officer Mr. T.C. Damor Rajiv Surana, Director, Anushka Academy, graced the inaugural ceremony of camp
Dr. Sunil Garu of GHH American Cancer Memorial Hospital, Dr. Rinku Mahawar, Dr. Pushpendra Kumar Sharma and Narendra Goswami not only examined the patients but rendered their services served their services. Shivir in-charge Yashwant Paliwal told that the if cancer on the first and second level be fully diagnosed can be cure fully The Manager of Golcha Clinic M.C.Jain concluded the camp by offering a memento to all medical staff and workers.
यह खबर निम्न श्रेणियों पर भी है:
Udaipur News