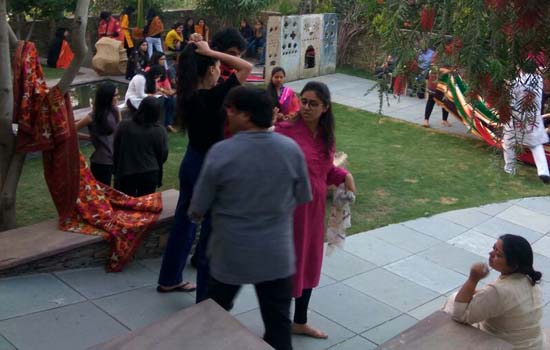 In the evening of Inauguration of National Women Painter's Camp at STUDIO MUMUKSHU,Badi this Sunday, students of Literature of Guru Gobind Singh Indraprastha University ,Delhi presented a short play "Chief ki Dawat" based on the story of renowned literate Bhishma Sahani. This 35 minute's play was directed by Anoop Trivedi, an acknowledged theatre director and cine actor. The play was staged in available home light, without mikes and the available space of lawns, room and corridor. Anoop Trivedi made optimum use of entire space of Studio maintaining aesthetics. The famous story of Bhishma Sahani goes like this; Shamnath is a middle level officer in a corporate firm whose chief is an American. Materialistic Shamnath is keen to get promotions through pleasing his Boss. In order to impress the Chief he invites him and senior managers to a party at his home and ensures all best arrangements. His wife too believes in pseudo presentations. The only drawback Shamnath finds that his mother is backward and inarticulate who may create awkward situation in front of important guests. Though she has sacrificed her comforts to raise her son but Shamnath does not value it. He explores many possibilities to hide her from guests. He cannot ask her to rest in her room as her snoring would disturb the guests. After considering all facts he finally makes her Bebe(mother) to sit quite at one corridor where she cannot sleep till the party ends. The guests are welcomed and served with drinks. While proceeding for dinner the American Boss and his wife interact with his mother. The American couple asks her to sing traditional Punjabi folk song which she reluctantly sings. They get impressed and ask whether she could create a piece of Fulkari (Traditional Punjabi embroidery handicraft) for them. Bebe expresses her inability owing her poor eye sight, but her predatory son promises his boss a piece of Fulkari from her. Poor mother does not have any clue of the situation. She thinks that she is worthless and her rustic behavior may mar chances of Shamnath's promotion and decides to leave for Haridwar for rest of her life. But her cunning son convinces her to stay back and create Fulkari piece for his Boss. Innocent and caring mother agrees to do Fulkari for the betterment of her son.
Inclusion of thematic Punjabi folk songs and poetic narration of concluding poem from a note book created lasting impact. Entry and exit of artistes were very smooth and natural. Singing of solo (Main unni purani haan), duet (Maa to thandi chhanv hai) and chorus was not only melodious but very meaningful. The singers as well as narrators did their jobs with perfection. Baring one entire cast consisted of new actors. Some of them acted for the first time but it was difficult to believe that they are newcomers. Siddhant Talwar as Shamnath, the cunning son, Chetna Nassa as Bebe (mother) were very impressive with their flawless dialogue delivery and superb natural acting. Manali Dogra as wife also impressed audience with her right expressions. The maid servant ( Akaanksha Kublani ),Boss( Ishan Tevatia ) and narrator ( Preetika ) exhibited their talent in respective roles. The play was staged in Punjabi but their illustrative acting made it easy for audience to understand it thoroughly. The concluding poem "Mein Preet vich jaake prêt vich aana chaandi haan" was written by Kanika Puri and was so emotionally charged that some of the spectators were in tears. Anoop Trivedi was assisted by Shubhangi whose work is also commendable. Music was supported by Prakash( Harmonium) and Ashok(Dholak).
Professor Ashutosh Mohan who brought the team explained that their literary society has some actors from other streams. The play was witnessed by artists and art consensuses of Udaipur. Prof. Ashutosh Mohan and his team also presented a play in Choyals Studio last year. It has enhanced possibilities of having intimate theatre in natural environment. Hope to see more shows like this at Studios like Mumuksh and Choyals.
Painters Camp and Exhibition----
According to Veerangana Soni of Gallery Artoz prominent artists like Jyoti Devgare and Meenal Rajurkar from Mumbai, Preeti Maan from Delhi, Monika Chauhan from Ajmer, Suwarna Sable from Pune along with Kiran Murdia, Meena Baya, Sharmila Rathor,Iti Kachhawa, Jyotika and Dimpal from Udaipur are busy in creating paintings during this National Workshop and will exhibit their works in Kala Veethi, Bagor ki Haveli from 8 to 11 March. It will be inaugurated on 8 March to commemorate World Women's Day. My Best wishes…
---vilas janve---
यह खबर निम्न श्रेणियों पर भी है:
Udaipur News