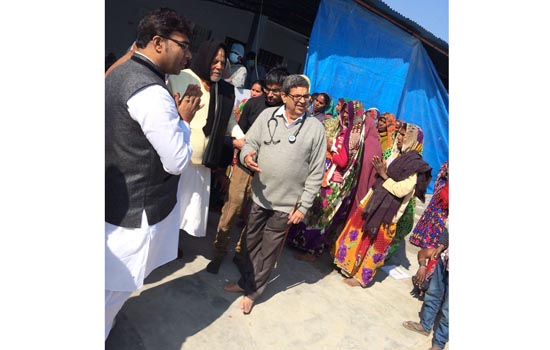 A group of highly qualified doctors visits a remote area in Uttar Pradesh's barabanki and provides top class health services to the people who otherwise cannot afford. This place is an Ashram called Shri Ram Van Kutir Ashram located in the Hariakol Jungle. Situated approximately seven kilometers west of the coast of River Reth- in Trai belt, the Ashram which is a spiritual point was headed by Late saint Swamy Ramdas Ji Maharaj followed by late Saint Badridasji. At present, Saint Ram Gyan Das Ji Maharaj is heading the Ashram.
The three aforementioned saints had left their comfortable homes in their school age to fight against the disparity prevailing in the society. They wanted to eradicate the huge gap between the rich and downtrodden. The three saints chose this place for preaching the holy Ramayanji.
Swamy Ram Das Ji has shared his spiritual message with the pupils including:
1. Rise early by 5 am
2. Offer the morning prayer
3. Take bath and read at least five dohas of the Ramayana
4. Touch feet of the elder to take blessings
5. Adopt vegetarian lifestyle
6. Maintain a joint family
7. Donate generously and help poor to get better life
8. Speak truth firmly but maintain the polite tone
9. Follow principles of Swami Vivekanand
10. Spare some time for the jungle service
He preached these 10 commandments of life across states and touched lives of people In a big way. Areas that he covered included UP, Rajasthan, Gujrat, MP, Haryana, Delhi, Assam, West Bengal, and Bihar.
The Ashram location has no facilities to stay or work. The team of doctors chose this tough area and have been treating people for many years.
Eminent personalities and public representatives of the city flagged off the Barabanki surgical team of doctors that started from Udaipur.
Dr. D P Singh, the Principal & controller of RNT Medical college Udaipur was the chief guest while Phool Singh Meena, Ravindra Shrimali, Chandra Singh Kothari, Manoj Agarwal were special guests.
Dr. J K Chhaprwal on the occasion said that it is the 35th surgical camp which included medical specialists and staff members.
Among doctors: Dr Vinya Pendse Sr Prof & Gynaecologist, Dr Y N Verma , Dr S. K. Samar , Dr J L Kumawat , Dr Sharad Nalwaya , Dr. Sandhya Nalwaya , Dr Manohar, Dr B M Soni, Dr P C Jain , Dr Kartar Singh, 18 residents 40 Nursing staff Mr Prakash Samota, Ramesh Purohit, Chandrakala Paliwal , Sampat Barala, Dinesh Sisodia , Suresh Lahoti, Deep Chand Raiger, 12 Vaidya: Dilkhush Seth, Arun Vyas, L k Acharya,
Mr. Ram Lal Agarwal, Deepak Poddar, Budhi Prakash, Prakash Devpura, Bhagwati Sharma, Videsh jinger,'
Ward boys Heeralal, Motilal, Chamanlal, Ratan lal, Shiv lal, kesu, Ratan Devi.
Sharing records, Dr. Chhaparwal said that hitherto more than 55 thousand operations have been completed on 22 operation tables. He said that people come from a radius of about 500 kilometers for treatment from
Barabanki, Lucknow, Sitapur, Bahraich, Gorakhpur, Gonda, Raibareli, Amethi, Faizabad, Mughalsarai, and the state of Bihar.