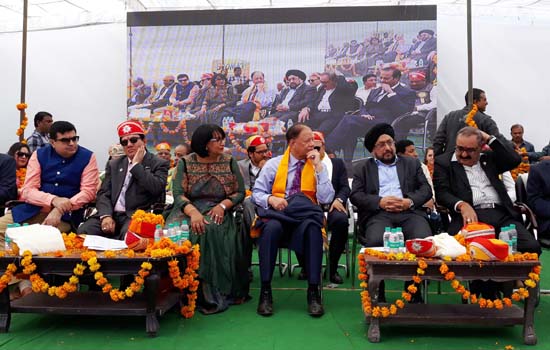 A two-day celebration to keep the tribal culture alive was organized this weekend. The venue was famous Azad Ground of Jhadol area and the crowd included local as well as foreigners who got mesmerized after seeing the cultural opulence and love for heritage. Performances like Gawari, Bhamai, and local folk dances left people exhilarated and amazed.
Popularly known as Bhomat, the event also saw a child-fair which had more than 100 stalls by children. Stalls included an exhibition of development tasks being done by the organization in Rajasthan, Madhya Pradesh, and Gujrat apart from eateries.
Addressing the children in the Bhomat Mahotsav, former president of foreign affairs of Europe Berones Sandeep Verma, who was also presiding over the ceremony said that the Bhomat Festival is crafting its own niche on the world map. "This program gives an identity to these children and they are getting overall development. Tribes are the root of our society and we should not forget that," said Verma.
The founder Pundit Jeevatrat Sharma was earlier offered a tribute by all the present dignitaries. The manager of Rajasthan Bal Kalyan Samiti Girija Shankar sharma said that children from across 23 cities from Rajasthan, Gujrat, and Madhya Pradesh not only attended but also participated in the program.
Coordinator of the festival Dr. SV Singh said that children took special interest and performed well to leave one and all electrified. Their exuberance was unmatched.The stage was totally digitized and children performed in traditional dresses. Audiences remained in the ground till late night to see the performances by kids.
The exciting program also got some emotional touch as the wife of founder Pt. Jeevatram Sharma Mrs. Himmat Devi Sharma got a little emotional. She recalled that Mr. Sharma had started this organization 37 years ago in one room and then offered all that he had to take it to peak.
यह खबर निम्न श्रेणियों पर भी है:
Udaipur News