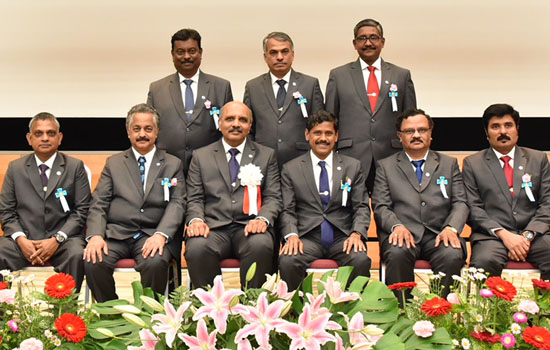 Udaipur: Ashok Leyland, flagship of the Hinduja Group, yesterday received the prestigious 2017 Deming Prize for its Hosur Unit II manufacturing facility. The Deming Prize is one of the highest awards on Total Quality Management. It is a global award which is the oldest and most widely recognized award in the world, given to companies that have established customer oriented business objectives and strategies, and implemented Total Quality Management (TQM)to achieve them.In 2016, Ashok Leyland Pantnagarplant had become the first truck and bus plant in the world and also the only CV manufacturer outside of Japan to win this coveted award. With the Hosur unit II plant winning this year, Ashok Leyland becomes the only CV manufacturer outside of Japan to achieve this feat consecutively.
Sharing his views, Mr. Harihar P., Senior Vice President – Manufacturing and Project Planning, Ashok Leyland, "Winning the Deming Prize for our two manufacturing facilities is indeed a proud achievement for us. Our attention to all processes while maintaining a world-class quality is what has helped us win this prize. Our focus was to showcase the effective quality management methods, established structures for implementation and how these methods are put into practice. If we continue to excel in achieving quality in everything that we do, our stakeholders will continue to reward us with their loyalty and trust."
The Deming Prize was established in 1951 by Japanese Union of Scientists and Engineers (JUSE) to honor W. Edwards Deming, who contributed greatly to Japan's proliferation of statistical quality control after World War II. The selection procedure of the winner involves a tedious process. It is a very intense and time consuming effort both for the company and the examination body. The Deming Prize Committee views the examination process as an opportunity for 'mutual-development', rather than an 'examination'.
यह खबर निम्न श्रेणियों पर भी है:
Udaipur News