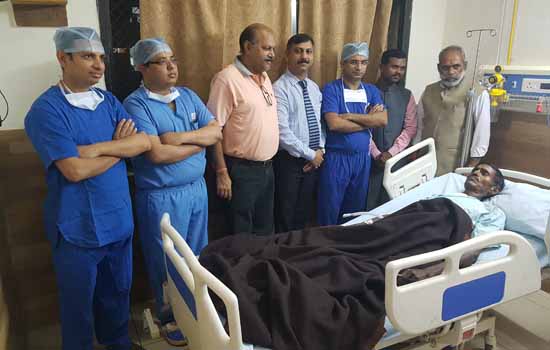 Udaipur, A 53-year-old man with a 4-year history of a very large; giant myxoma measuring 11.5 centimeters, which was consistent with severe mitral valve obstruction was operated successfully by Geetanjali Medical College & Hospital; Geetanjali Cardiac Centre's Cardiac Thoracic & Vascular Surgeon Dr. Sanjay Gandhi. He survived fighting all odds to be the first case in Medical History of the world. Texas Heart Institute at St. Luke's Episcopal Hospital reported a similar case where the myxoma measures 11 centimeters long making it the first successful cardiac tumor (giant myxoma) removal surgery.
Tararam (53 years) hailing from Sirohi (Raj.) was presented in emergency with complaints of breathlessness and weakness. He was on medications since 4 years in a nearby hospital of the town. On investigations of Echocardiography by Cardiologist, a giant mass was seen, filling the entire left atrium, lying on the mitral valve and almost totally obstructing blood flow. Coronary Computed Angiography was performed to evaluate the patency of the coronary arteries before surgery, which was normal. Given the embolic potential of myxomas, surgical excision was the best treatment option.
As patient was sick, was having low cardiac output, severe pulmonary hypertension and low ejection fraction; timely intervention and immediate assistance was required hence, the team of surgeons and anesthetists including Dr. Sanjay Gandhi & Dr. Surendra Patel, Dr. Ankur Gandhi, Dr. Kalpesh Mistry, Dr. Manmohan Jindal & Dr Dharamchand Jain operated on emergency basis. The operation lasted 4 hours. During surgery the tumor, smooth surfaced, giant mass filling the entire left atrium, was removed together with its pedicle cautiously; as even a small part of tumor (if left out in heart) could cause brain stroke leading to death of the patient. The patient was then shifted to CTVS ICU and then weaned from ventilator support the very next day. The patient was operated free of cost under the flagship scheme of Rajasthan Government's Bhamashah Swasthya Bima Yojana (BSBY).
"Tumors in the heart are very uncommon as compared to other organs of the body", said Dr. Gandhi. Myxoma is the most prevalent primary cardiac tumor. They are the benign tumors as they do not spread from one part of the body to another. Once a cardiac myxoma is diagnosed, surgical excision should be performed without delays because of the risk of thromboembolic events. Generally, surgical treatment is definitive and recurrence is uncommon. Intracardiac tumors are rare, 75% are benign and 50% of them are myxomas with an incidence of 0, 0017% in the population, quoted Dr. Gandhi.
यह खबर निम्न श्रेणियों पर भी है:
Udaipur News