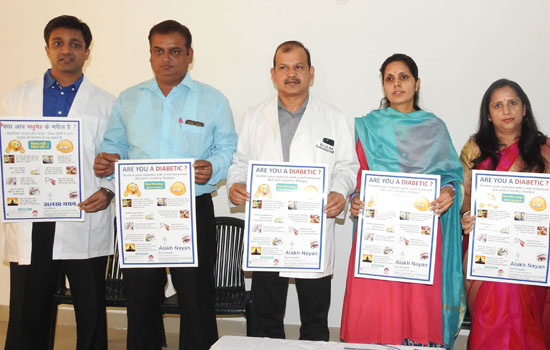 Eye and diabetes test camps will be available in every neighborhood, with free treatment
Udaipur. On World Diabetes Day, the Alakh Nayan mandir, Udaipur is going to introduce a new revolution in the field of ophthalmology. In this project Door to Door free eye screening, diabetes investigation and treatment camps in the colonies.will begin
On Tuesday 14th November at 11 am The program will be inaugurated by Bollywood actor Neil Nitin Mukesh. While Madan Paliwal, MD of the Miraj Group will preside the ceremony.This information was given by Dr. Lakshmi Jhala, Managing Trustee of Alakh Nayan Mandir in the press. Press conference held
Dr. Lakshmi Jhala said that the project, called the Community Based Diabetic Retinopathy Project (CBDRP), will be implemented by Alkhan Nayan Mandir with the assistance of, Operation eye sight Universal Canada, & Mirage Group.
Dr Jhala told that due to diabetes the damage to the eyes causes diabetic retinopathy disease. Its treatment is possible with laser, operation, injection or medicines. This project has two motives. Examining one's eyes, measuring the effect of diabetes by diagnosis evaluation & best medical arrangements, Many times patients are not aware that they have diabetes. Under this project, this was revealed in a trial pilot camp in Udaipur city. During the eye examinations, people came to know that they had serious levels of diabetes.
Dr. L. S Jhala said that after the age of 40, everybody should have regular checkup of eye examinations and levels of diabetes if have.. Diabetic patients, especially in the last 20 years, 60% of non-insulin diabetic patients have problems with diabetic retinopathy, and Diabetic patients who are dependent on insulin may have retinal problems in almost all patients. .
According to the latest data released under national blindness program, 6.2 crores of people are suffering from Diabetes in India. According to the WHO report, by 2025, there will be one of the world's most diabetic patients, around 5 million to 70 million. According to the recently launched program 'Community Based Diabetic Retinpathy Project-CDRP' of Canada-based NGO-Operation Eye site, 10.91 out of 40 years of age people are suffering from diabetic retinopathy. 35 percent of these people need urgent treatment. Most of these diabetic patients also do not know that there is a problem of untreated retina in their eyes, due to which their eyesight can be fully affected
Retina consultant Dr. Saket Arya said that considering all the above facts and urgent requirements, Canada-based NGO 'Operation Eye Site Universal' has come up with a global program for all sections of society called 'Community Based Diabetic Retinopathy Project (CBDRP). The project is a fundamental way to provide fundamental Diabetes Retinopathy services under which components of prevention, incentive, safety and treatment of quality DR are included. The CBDRP was conceived by Canada-based NGO 'Operation Eye Site Universal', which is doing innovative and innovative programs for the prevention of blindness in India, Nepal and African countries, Kenya, Java and Ghana.
Signs and Objectives of CBDRP:
Implementation of Community Based Diabetes and Diabetic Retinopathy Project,Facilitate the treatment of diabetic retinopathy in the Alkhan Nayan Mandir Eye Institute so that the patients of DR patients get better and safe treatment. For this, make every section of the society aware by providing information through the door-to-door survey. Involve every nursing home, medical store, medical center, laboratories and diabetic screening centers in the project providing medical services. Systematically organize all stored data so that they can be analyzed and used when needed.
Screening programs will be organized on the basis of the collected information which will be held every Sunday at the society identified by the Alok Nayan Temple Eye Institute, Nursing Home, Medical Centers and Laboratories. In this, women and children of more than 40 years of age, whose diabetic disease in their family