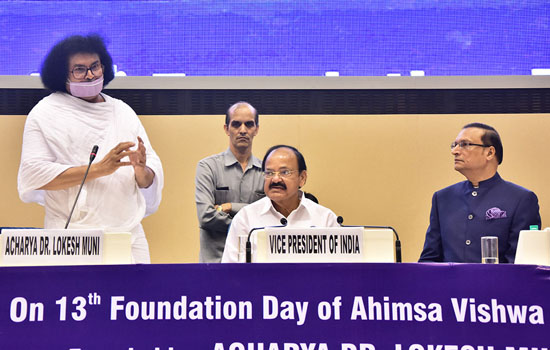 Vice President of India, Acharya Lokesh, , Maurya with Religious Leaders inaugurated Ahimsa Diwas Samaroh at Vigyan Bhawan
New Delhi, Vice President of India Shri Venkaiah Naidu inaugurating Ahimsa Diwas Samaroh said that Ahimsa Vishwa Bharti organisation in the leadership of Acharya Dr. Lokesh Muni has been making remarkable efforts towards establishing Non-violence, Peace and Harmony, promoting humanitarian values, national character building not only in India but in different parts of the world. Program was organised on the 13th Foundation Day of Ahimsa Vishwa Bharti organisation. Chairman and Editor-in-Chief of India TV Shri Rajat Sharma, Chairperson of Varishth Nagarik Kesari Club Smt. Kiran Chopra graced the event as honourable guests. With Jain Religious Guru Acharya Dr. Lokesh Muni, Ambassador of Sikhism in USA Bhai Satpal Singh Khalsa gave the message of Non-violence, Peace and Harmony on the occasion. Chief Minister of Bihar in written message gave greetings to the organisation.
Vice President of India congratulating Ahimsa Vishwa Bharti for completing 12 successful years of working said that Ahimsa Diwas Samaroh is also important because peace and harmony can be established in the society only with non-violence. We need peaceful and harmonious atmosphere in the society for development. Violence cannot solve any problem; violence gives rise to counter violence. All problems can be solved through dialogue based on the principle of Unity in Diversity. Therefore Government of India made announcement to solve Kashmir issue through dialogue. India is a very large democracy, there is no place for violence in democracy.
Acharya Lokesh Muni said that Ahimsa Vishwa Bharti Organisation was founded with the objective to spread the message of Peace, Harmony, Non-Violence, and Brotherhood, to encourage human values worldwide. We aim towards associating religion with social world and work for welfare of society and nation. We work for National character Building, education, health and medicine, means of livelihood for the less privileged and for enhancing spiritual experience in their lives through our branches in India and Abroad. He to all the workers to take the campaigns against social evils like Female Foeticide, Alcoholism, Child Labour and Environment Pollution run by Ahimsa Vishwa Bharti in different parts of India. Indian has pluralist culture. Unity in diversity is its unique feature. Inter religion harmony is key to this unity. Non-violence, peace and harmony begin from here.
Shri Nitish Kumar in his written message said that Acharya Dr. Lokesh Muni has done appreciable work for enhancement of human values, national character building. In the leadership of Acharya Dr. Lokesh Muni, Ahimsa Vishwa Bharti is running national campaigns against alcoholism, female foeticite environment pollution. I congratulate Ahimsa Vishwa Bharti for organising 'Ahimsa Diwas Samaroh' on completing 12 successful years of dedicated working. The organisation works with the aim to promote non-violence, peace and harmony in India and abroad.
Shri Rajat Sharma said that presently there is a need for Religious Leaders, Social Workers, Political Leaders and Industrialists to make efforts towards establishing World Peace from one platform. We welcome the effort made by Ahimsa Vishwa Bharti in this direction. We appeal to the media friends to take this work of social welfare to the masses. He said many great leaders such as Bhagwan Mahavir, Bhagwan Buddha, Mahatma Gandhi gave great emphasis to non-violence. Today not only India but world should adapt the path of Ahimsa.
Smt. Kiran Chopra said world population faced with nuclear war and terrorism can be saved by the philosophy of Non-violence and Peace. Ahimsa Diwas Samaroh has been organised at the time when there is an atmosphere of unrest in the whole world. When world is facing many global challenges and we are looking towards solution to such problems, Non-violence and Peace are very important. Time has come when we adapt this philosophy to find solution for contemporary problems.
Bhai Satpal Singh Khalsa said that all religions tell us to live together with brotherhood and harmony in the society. There is a need that along with following our religion we should adapt the path of Non-violence and Peace in our daily life. We are pleased that Acharya Lokesh Ji is working for spreading Bhagwan Mahavir philosophy in the whole world. He is not only spreading Jain religion but Indian culture internationally. Many global problems can be solved by adapting the philosophy of Ahimsa. Problems like environment and nature degradation, violence due to war and terrorism, religious intolerance and economic exploitation can be solved by Ahimsa.
Dr. Akit gupta was honored with Ahimsa Health Care Award, Shri Kashi Murarka wil Ahimsa Social Work Award and Shri Mahavir Goyal with Ahimsa Value Education Award. Gurudev Namr Muni Dikshati Sister were honoured with shawl and nariyal by Vice President, Acharya Lokesh Muni, Rajat Sharma and Kiran Chpra honored Chairman of the organising committee Dr. Ajeet Gupta, Shri Manish Shah, President Shri Raj Kumar Oswal, Convener Shri Subash Oswal, Secretary Shri Manoj Jain also addressed the gathering. School students in the presence of eminent people from India and abroad presented National Anthem and Peace song. Ahimsa Vishwa Bharti magazine 'Aahwaan' was released on the occasion.
यह खबर निम्न श्रेणियों पर भी है:
Udaipur News