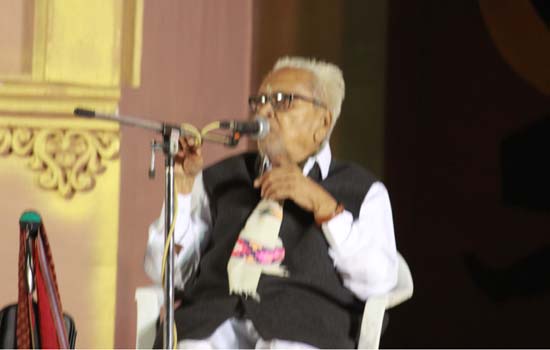 Udaipur. In order to improve the hygine stature of MB Hospital troma centere ,Maharana Lions Charitable Trust, in joint Collaboration with Lions Club Maharana organized a Hasya Kavi Samellan , at Shilpgram, the humor, humorous moments between pink winters generated heat among listeners
In the beginning of Kavi Samellan Kavita Tiwari presented Saraswati Vandana.Hasya kavi Anil Agarwshi presented his composition and said, " hasanna-hasanaana aadat hai meree,apana banaana aadat hai meree,log munh pher ke aavaaj de bulaana aadat hai meree...Humorous poet Rajesh Chetan has composed manuscripts on earth, luck is there, manu roop dharatee pe aana kismat hai,hindustaan ka aabodaana kismat hai,gumasum gumasum kab ta yoon hee baithoge, taalee ke saath taal milaana kismat hai...The audience gave a lot of applause All TV fame poet Himanshu Biwandar's creation should not be cooled by the AC, "esee kee thandak na de,boojhe baragad kee chhanaav to de den,kankirato ke jangal na de,bachapan vaala gaanv to den de, jar, joroo, jameen sab phijool hai, meree mujhe meree maan ke jannat vaale panaav to den de...
poetess Mumtaz Nasim, tujhe kaise eelm ho na saka,badee door tak yah khabar gayee,tere shahar kee shaayara,teree aarajoo mein mar gayee...... but the audience resonated the platform with wow-wow.
The writer, Rao Atat Sathu, while speaking to the producer-director Sanjay Leela Bhansali, opposed the film Padmini, while reciting his poem, said: panna balidaan amar teerath baaree bhee yaad nahin,chandan kee cheekhen goonj rahee,maangee lekin phariyaad nahin,apane philmee draame mein thodee sachchaee gadh lete,yadi chittaud ko padhana tha, if you had to read Chittod, Pt. Read Narendra Mishra .... The public has a lot of support with applause.
Padmashree Ashok Chakradhar said in his poem" ne apanee rachana mein kaha ki jo mehanat karee, tera pesha rahega, na resham saheen, tera resha rahega, abhee kar le poore, sabhee kaam apane,too kya sochata hai hamesha rahega... welcomed by applause
The poem of Lucknow's heroic kavita Tiwari sung her creation in heroic voice that agar maatee ke putale deh mein eemaan jinda hai,tabhee is desh kee samrddhi ka aramaan jinda hai, na bhaa6aan se hai,emmeeden na vaadon par bharosa hai,shaheedon kee badaulat mera hindustaan jinda hai.. Everyone welcomed by applause.
Ashok Chakradhar said while saying the situation in Delhi, "There is a burning sensation in the eyes, moisture in the eyes, some smoke and smoke, somebody said," Wherever somebody said so far in Delhi, all the listeners welcomed the applause with applause. " He said that the condition of the hospitals is that if the patient is okay or not, but the person accompanying him definitely gets sick .. If the garbage spreaders are expanding, then the Lions Club came forward to settle the trash The waste is not collected by one place and it is disposed of, electricity generates from it.
Bal kaavi Bairagi said, "We are very fortunate, we have a mere Hindi poet Gopalas Neeraj living in in the age of 93 six year elder than me Neeraj is a poet who has heard from four generations. It is a privilege of Hindi. It's a pleasure to be included in this. Saraswati does not forgive anyone. He either educates anyone, or punishes someone or magnifies anyone.
Club President Lion CS Rathod welcomed the poets and. C. P. Sharma, Praveen Suthar, RS Yadav of Unique Infra were present in the Kavi Samellan .
Convenor Rajesh Sharma said that this Kavi Sammelan was organized to give a new look to cleanliness campaign. Club secretary Ashok Mandavat, program organizer Ashok Jain, Vipin Lodha, Sanjay Kothari, Rajiv Bhardwaj, Ajay Mehta, Yogesh Chaudhary, Chetan Chaudhary, many members welcomed the poets.