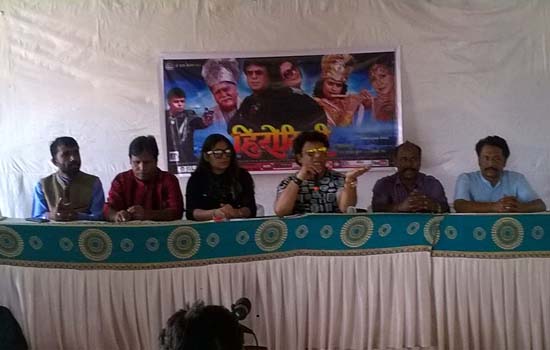 Udaipur.The makers of Rajasthani film Pakki Herogiri, featuring Arvind Kumar Vaghela and Neelu Vaghela in lead, is being re-released in Udaipur which was originally released in India in feb 2017
Arvind Vaghela says in a press meet held in udaipur with co star daughter rof world reknown Gulabo , "The film received a good response in its first run. We are not leaving any stone unturned . to get good collection film is doing good in udaipur.
. Arvind adds, "We have a bunch of passionate directors and producers who wouldn't mind selling their properties to make a film.There is no dearth of talent here, but we don't have a market. The current generation is more drawn towards Hindi and English films.They hardly watch Rajasthani films.Regional films in most cases do not get enough theatres. And when they do, the exhibitors pull down Rajasthani films to accommodate a Hindi film. So it becomes difficult for us to release our films across all cinema halls in Jaipur. Having said that, not all regional films get re-released. Since Pakki Herogiri did fairly well as compared to other Rajasthani films, we got the confidence to re-release it so that more people can watch it."
Film Producer Hitesh Kumar and MM Gupta in a press conference held here
.
Artists of the film include Bhabo Fame Neelu, Arvind Kumar, Raja Hassan, Rakhi, Hetesh Kumar, Comedy Circus Fame Surendra Pal, Raza Murad, Ali Khan, Laughter Challenge participants Suresh Albela Albela, Dhruv Anima, , Jadhav, Jain , Hema, Ankur Upadhyay, Nikhil Jain,The film has been filmed in very beautiful manner.
यह खबर निम्न श्रेणियों पर भी है:
Udaipur News