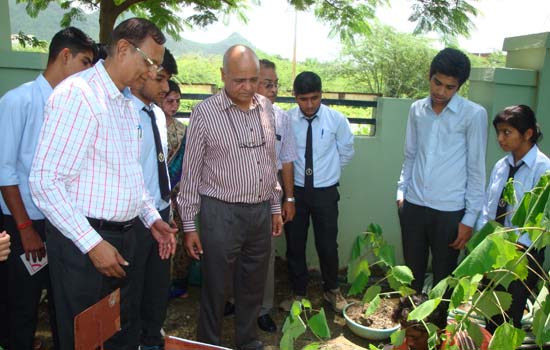 Udaipur: Professor B.P.Sharma inaugurated University's Agricultural College Jean Bank and Crop Museum by opening the knot of Mauli., Sharma, President, Pacific University. The gene bank has been displayed smoothly by preserving the seeds and fruits of varieties of different crops grown in the country.
Earlier, the college's Dean Dr. S.R. Malu welcomed Professor Sharma and made an observation of herbal gardens of various medicinal and aromatic plants prepared by the students. While attending the college for a month-long intensive tree plantation program, he also planted a plant.
Professor B.P.Sharma appreciated the development of the Pacific Agriculture College and the participation of the students in it. On this occasion, he also observed the exhibition on the importance of biodiversity and small food grains. While praising the "Register of Biodiversity" of Southern Rajasthan created by the college, it required the need to make online so that more and more people could get information from him..
Addressing students and faculty, Prof. While speaking to students, Sharma said about the economic up-liftment of the farmers through sustainable farming, while telling the students about water conservation, different friend pests, environmental protection, organic farming and biodiversity, protection etc. By statistics and various agricultural activities, he explained how India can become theleader in the world by increasing production in the country. In the end, Dr. AU Siddiqui thanked him. The program was attended by Dr. GL Sharma, Dr. Monika Jain, Dr. Shipra Paliwal and other dignitaries.
यह खबर निम्न श्रेणियों पर भी है:
Udaipur News